5 Reasons Why You Should Use Wrought Iron
by Chris Crumpler on Jul 17, 2018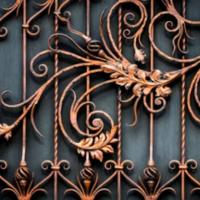 Wrought iron can be used for a variety of things, such as railings, balusters, and fences.
5 benefits of using wrought iron:
1. Aesthetically Pleasing
While wrought iron itself is generally aesthetically pleasing, wrought iron balusters are especially trendy. This is mainly because wrought iron is extremely versatile and can seamlessly integrate into any home's style.
2. Easy to Maintain
Let's face it: maintaining your fence or railing can be difficult and quite overwhelming. But, you don't have to worry about the hassle of constantly maintaining wrought iron because it requires a minimal amount of attention. Of course, you're going to have to do a standard amount of maintenance like you would have to for any other material, but you won't have to worry about spending a ton of time, money, and effort on your wrought iron railings.
3. Durability
Regardless of how you use wrought iron, it's important that it's extremely durable. After all, wrought iron is commonly used in stair railings and it's especially important that stair railings are durable and strong because they act as a blockade between the steps and the ground.
With wrought iron stair railings, you don't have to worry about leaning a little too much on the railing or inclement weather. This is because wrought iron has a tight composition that makes it extremely resilient and strong.
4. Security
Since wrought iron is extremely durable, wrought iron fences are one of the most secured types of fences. It's also important to note that wrought iron has a substantial weight. This means it would require a lot of strength and power for someone to damage or break the fence. 
Also, wrought iron fencing often has sharp accents featured on the top, which makes it even harder for people to damage or break your fence. 
5. Eco-Friendly
Wrought iron is environmentally friendly for a variety of reasons. Firstly, wrought iron is usually recycled. If you ever decide to use your wrought iron fence or railing for something different, you could always repurpose it for something like a garden decoration. 
Another way wrought iron is environmentally friendly is its durability. Since wrought iron is extremely durable, you don't have to worry about replacing your fence or railing. Typically, wrought iron fences and railings last a lifetime. Therefore, you're ultimately being green and reducing your carbon footprint by only utilizing one wrought iron fence or railing.