How to Protect Your Home and Everything in It During a Renovation
by Boris Dzhingarov on Sep 21, 2018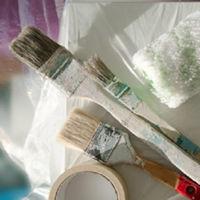 A home renovation project marks the beginning of something new and therefore, it is almost always an exciting prospect for the entire family. However, home renovations do not come without their own set of potential risks, so safety measures are absolutely necessary to protect your home and everything in it. To make sure that none of the essential safety measures are being ignored, go through the following points.
Cover Everything Up with Dropcloths
Dropcloths can be used to cover up and protect everything in your home from dust, debris, liquid damage, and stains. This includes not just the furniture, electronics, and decorations, but the floors (hardwood, tiles, and carpets in particular) themselves too. However, there are different grades of dropcloths to choose from and unless you select the right type, there's always the risk that the protection won't be sufficient. For example, choose a canvas dropcloth with poly backing if all you need is some standard dust protection with lots of leak resistance, but when you are trying to protect your home against chances of serious damage during a heavy renovation project, opt for heavy-duty, slip-resistant dropcloths from Trimaco for complete protection against debris, spills, leaks, stains, and dust.
Sealing Off Doors
Every doorway that will not need to be accessed during the renovation should be sealed off. To do this, simply close the door and seal the seams with tape.
Dust Containment Walls are a Good Option
Flame retardant polyethylene dust containment walls in the work area help to keep the dust and debris from spreading throughout the house but are also great for preventing accidental fires during house renovations, which is a huge bonus.
Communicate Clearly with the Renovators
Good professionals always clean the workspace every day after work by default, but you shouldn't just assume it. Mention the fact that you expect them to do that and check daily or at least every few days if they are paying attention to the post-work cleaning. Aside from the cleaning, also talk to them about the general safety measures that they plan to implement during the project.
Do Not Ignore General Safety Measures
General safety measures apply during every construction project and ignoring any one of them could lead to disastrous results. Take note of the following to avoid any of that from ever happening:
All tools and especially power tools need to be unplugged and covered up after the day's work
At least temporary fire alarms need to be installed in the working area
Place a fire extinguisher or two within the working area
Keep the local police and fire department informed in the off chance that there is indeed an emergency
If you are not staying in during the renovations, installing home security equipment is advised
Safely lock away or even move your valuables from the house
Keep in mind that most of these tips apply to DIY projects as well and not just big jobs that require professional contractors.