Moving into a New Home for the Very First Time? These 5 Tips Will Make It Easier on You
by Guest on Feb 11, 2019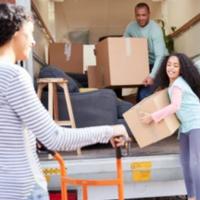 Moving into a new house for the first time is an intimidating and stressful experience, but you can make things easier by following a few simple steps. Whether it's a new job, a recent marriage, or your dream house, managing emotions and the moving process is a double burden. Here are 5 tips to help you ease it.
1. Meet your new neighbors
Knowing your new neighbors is highly important as they could make your new life either horrible or happier. According to a research done by the University of Birmingham, a sense of strong community within a neighborhood is the key to happiness and prosperity at home. One of the best ways to get to know your new neighbors is by hosting a Sunday brunch or throwing a backyard party.
2. Get rid of the stuff you don't need anymore
Unless you really need certain old things, overloading your new home with them is a bad idea, so get rid of them. See what you need first. The rest stuff should be sold or donated as soon as possible. Consider having a yard or garage sale this weekend to sell unnecessary things and earn extra money for your new house expenses. A win-win solution, isn't it?
3. Hire a home inspector
Before you move in, you need to know the drawbacks of your new home. Invite a home inspector in your new place and let them create a list of anything that needs to be fixed, repaired, or improved. You can also do it yourself, but an inspector can find the problems that your eyes may not even notice. You can even ask a seller to compensate for those problems as they probably didn't mention about them during your first house visit.
4. Be smart with packing
When you're in rush, all you do is just pack all of your things in dozens of boxes, forgetting where you put your essentials. Label your moving boxes by marking down the contents, special handling instructions, and destination rooms like the bathroom, kitchen, living room, etc. Pack your first-day box and label it with huge letters. This box should contain everything you'll need on your first day in your new house. The shower essentials, toilet paper, medicines, extension cord, paper plates, dinnerware, and trash bags are some of those essential things.
5. Hire professional movers
Once all things are packed and boxes are labeled, your final step is to hire professional movers. Whether you're moving into a small apartment or a big house, the whole process is overwhelming. Professional movers know how to add more joy to this lifetime event by moving your belongings safely and fast. Not to mention that they save you and your family members from carrying all those bulky and heavy boxes and pieces of furniture. Professional movers also help those who are in rush and need to move out and in very fast.
With a little preparation and professional help, your moving process will be blissful rather than stressful.