6 Questions You Need to Ask Before Hiring a Home Remodeling Contractor
by Joe Goldstein on Mar 10, 2020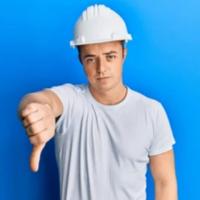 If you are planning to hire a contractor for some remodel work, it's vital that you do your research and ask the right questions. Here are a few to get you started.
Did You Ever Do Business Using Another Name?
You must be paying attention to the way the question is answered. If they operated using another name, chances are they won't want to speak with you about it.
If they have, it may mean that it had been shut down because of shady practices, like asking people to pay upfront and disappear before they completed the work. This is the last thing you want to happen.
What's the Number of Your License?
In a lot of states, contractors have to register with their state so they can do business. Having a license number will let you verify any judgments or claims they have against them. It also will show if they owned another business using another name.
How can You Be Reached?
You should definitely ask this. It's essential that you get their business address along with their mobile number and the business phone numbers of your contractor.
If the contractor only will give you their cell phone and a post office box, or they're operating using a trailer, it's a good idea to look someplace else. These are all signs that warn you that they may not be reachable years down the line if there's something wrong.
Can I get an Insurance Policy Copy?
It's important to ask for their insurance policy copy. This will show they carry insurance, what kind of insurance they carry, and the amount they carry. There are many contractors with coverage but they might not have enough for covering your property.
You want to ensure that your property's covered but that they also are carrying enough workman's comp. if your contractor isn't insured properly, you might be liable for injuries or accidents which happen.
What's the Cost for the Project?
Make sure you're getting costs upfront and in writing. Ensure your estimates are very detailed. This way, when they're compared against one another, you know you're comparing apples and apples.
Be careful of quotes that are very lower than others. This might not include all labor and materials. If you're getting an estimate that's a lot higher than others, it could mean the others are missing key barriers that are necessary for completing your project and might get back to you asking for additional money after they've started.
Can I Get Some References?
Any remodeling contractor should be able to provide you with at least a few good references, but the devil is in the details.
Is that it?
Not by a long shot, but these questions will help you weed out the bad apples quickly, and help you avoid contractors who just aren't right for your needs.