5 Home Improvement Tips for Aging in Place
by Jennifer Modric on Jan 17, 2017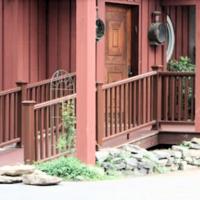 Are you getting older, but don't want to move out of the comfort of your own home? Well, no one can blame you- staying in the house you're comfortable in and settled into is a big deal. Instead of moving to a new home or possibly into an assisted living community, here are ten specific improvements you can make that will allow you to stay and enjoy living in your existing home.
While some of these improvements won't be cheap, remember that if you decide to move, the sale of your home will cost you as well--up to 10% of the value of your home for real estate commission and other closing costs. Federal and local governments offer home improvement assistance for seniors, while in some cases the best option for seniors is the HUD-approved reverse mortgage loan (good information is available on the HUD website and on AAG's website.
Below are some of the common items we've come across that make a big difference in helping one safely and comfortably move about and enjoy their home as they get older.
Entrance
Coming and going from your house is usually a priority one. Nobody wants to end up locked in (or out) of their own home! Stairs can be a burden to get up, and impossible if in a wheelchair or scooter, so getting a ramp installed on the front door is a good starting point. It can also be difficult to reach or turn a doorknob in many cases. To remedy this, ADA-compliant door hardware is readily available (to plan for all contingencies, we recommend having it installed in a lower position so that it's reachable from a wheelchair or from the ground)  
Interior
Widening doorways: If needed, this will make it easier to get a scooter or wheelchair thru. It is also important to make sure there are no snags and tripping hazards in the doorways and elsewhere. Removing carpet and putting down wood is a good option, and will increase the value of the home. The key is to have as smooth of a transition as possible between commonly accessed rooms and areas.
Kitchen
Reaching into tall cabinets can become difficult for us as we age, so you may likely want to get rid of the upper cabinets or use them for less-commonly accessed items. Redoing your kitchen so you have lower cabinet storage space is a common project. If you have to reach up, however, the best way to do so is by purchasing an OSHA-compliant step stool at your local hardware stool. Whatever you don't stand on a swivel chair or even a chair with soft padding, as it's all too easy to lose your balance.
Another option is to lower the height of your countertops and sink. You may not ever use a wheelchair, but if you do it's best to plan for this expense. A simple tip: single lever faucets can help out a lot!
Bathroom
There are many areas a household bathroom can be improved to be safer. For example, it's very common to install a bar that you can use to pull yourself up off the toilet (various shapes and sizes, as well as fit and finishes, are available).. These wall bars can also be used if you need something to hold onto when going to sit, so you don't end up sitting on the floor or even worse falling. Another (even more important) project is to install a bar in the shower/tub area. If you can't stand and use a shower seat you probably already have a bar, but the addition of an additional bar may well be useful. A walk-in shower (with minimal lip) can also be a great way to "roll right into" if you are in a wheelchair. This is likely a costly option, however.
Other areas
Even young and middle-aged people sometimes prefer to have their bedroom downstairs so they can avoid stairs, but if that is not possible and you are a senior, the installation of a power stairlift is a very useful option and will almost completely eliminate the chance of falling on the stairs.
Last but not least, the installation of additional/brighter lighting in certain areas is a key item we recommend. As we age our eyesight slowly deteriorates, therefore it is important to have adequate lighting in places such as doorways, stairs, kitchen, and bathroom areas.

The key to living in your home for as long as possible on your own is safety. These five tips are really simple, but a little bit goes a long way to keep you living happily in your home deep into retirement.