4 Reasons Why You Should Visit a Plant Nursery This Weekend
by Robert Smiddy on Jul 18, 2018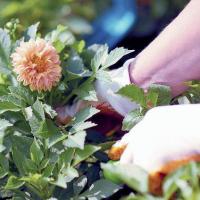 Whether you want to purchase plants for your new garden or revamp your current garden, a garden center is the perfect place to browse for plants and learn more about horticulture. That being said, continue reading to learn more about why you should visit a plant nursery this weekend!
1. Each Plant is Properly Attended to
Local plant nurseries are great because they usually don't purchase plants from wholesalers. Instead, garden centers take the time to pick and choose which plants they want to grow and sell. This also means that local plant nurseries have the time to take proper care of each plant individually instead of quickly tending to all of them at once. This ensures that you will purchase healthy plants that you will be able to easily maintain in the years to come.
2. Embrace Local Plants
Your neighborhood plant nursery embraces native plants in your area, so you should too. Since larger plant retailers are focused on selling a wide variety of plants from all over the world, it's hard to find native plants from your area. Instead, your local plant center will have a variety of native plants that you can buy, as well as the necessary information that you need to properly take care of them. So, you can have a garden that showcases the natural beauty of your neighborhood. 
3. Forget About Pests & Diseases
Plants are often plagued by pests and diseases if they aren't properly taken care of. Specifically, plants purchased by large retailers overseas run the risk of bringing a foreign pest or disease to the rest of the local plants. Most local plant nurseries only raise local or popular plants, which means you won't have to worry about this.
Since local plant centers can focus more on plants than large retailers, they're able to use special techniques and feeders to ensure that their plants flourish and remain healthy even after they're purchased.
4. Helpful Staff
Whether you are interested in purchasing new plants, have questions or concerns about current plants you have, or simply want to learn more about horticulture, your local garden center is staffed with a ton of knowledgeable people that can help you. 
In addition to selling plants, most garden centers also offer landscaping services, such as hardscapes, ponds, and other custom outdoor living services. So, feel free to head to your local garden center for all your landscaping needs!