Kitchen Renovation Is Not a DIY Job! Why Call Remodeling Contractors
by Kenneth Eres on Feb 10, 2020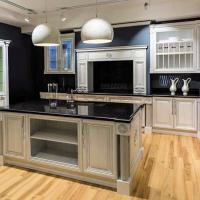 If your home is ready for a kitchen renovation, it's vital to understand why this is not a DIY job and not one to leave to a general contractor. For the best results, a homeowner should hire only qualified and experienced remodeling contractors for all the kitchen and bathroom renovations they need to have done.
Before you pick up the power tools and tune in to some DIY kitchen renovation videos, you might note some vital reasons why you want to call a qualified contractor instead. This will ensure that you end up with a kitchen, bathroom, or other room of the home that you'll love for many years to come.
Remodeling Contractors Inspect a Home's Structure
Before you add newer and heavier appliances, a larger kitchen island, and materials like solid stone countertops, you might need to brace up the home's subflooring! An older subfloor might be too weak to manage all that added weight so that it then begins to buckle and crack and eventually sag or even collapse.
Inspecting a home's structural integrity and design is also necessary before you remove or cut out the walls of the kitchen. Damage to a load-bearing wall can result in a home shifting and settling, and the risk of a collapsed ceiling. To avoid these risks and ensure your home is structurally sound throughout a kitchen or bathroom renovation, rely on remodeling contractors.
Remodeling Contractors Work with Water and Electricity Safely
Kitchen and bathroom renovations involve working with plumbing and electrical features; the combination of the two can be very dangerous if not downright deadly! Failing to switch off all the power to an area of the home being renovated can result in shock and especially if you're working with wet plumbing fixtures.
Improper hookups or getting power lines and plumbing fixtures crossed means a future risk of shock or damage to electrical wiring. Rather than risk your safety or that of your family, keep any fixes to electrical and plumbing fixtures and features to properly trained remodeling contractors.
Upgraded Appliances Might Require Updated Plumbing and Electric
When you renovate a home's kitchen or bathroom, you typically cannot just slide new appliances into the footprint of your current refrigerator and stovetop and plug them in. Many newer appliances might require updated wiring and rewiring of your home's circuits, to ensure those appliances have the electricity they need to function properly.
In the same way, a new dishwasher in the kitchen and fixtures and features in the bathroom might require updated plumbing pipes for their added demands when it comes to water flow and pressure. Trying to install new pipes onto old connectors or mismatching materials might also lead to corrosion and eventual water leaks. A remodeling contractor will know when appliances and plumbing features need updated wiring, pipes, and other pieces to function as they should.
Remodeling Contractors Know the Law!
It's easy for a homeowner to say that they can do whatever they want in their kitchen or bathroom, but renovation projects need to be done to certain local building codes for a home to pass inspection. Failure to pass can mean having to tear out your hard work and potentially facing steep fines! You are also typically required to have permits in place before you can start renovation work on a home's kitchen or bathroom.
A remodeling contractor will be very familiar with current local codes affecting your planned renovation. He or she can also typically pull permits for the job so that you don't need to hassle with paperwork and applications. Their work ensures that your home will pass inspection and you won't need to redo a renovation, pay fines, or struggle to sell your home at any time down the road.
Remodeling Contractors Help You Plan
Before you start a kitchen or bathroom renovation, it's good to have a complete plan for everything you need, including added storage, ventilation, and other such details. However, many homeowners are so eager to add those beautiful new appliances and oversized soaking tubs that they forget about details like ventilation fans, lighting, the location of storage, how to increase storage, and so on.
Many remodeling contractors in Boise Idaho work with designers or have so much experience in kitchen and bathroom renovations that they can ensure no detail is overlooked. They might make suggestions for how to enlarge a pantry or increase cabinet space in the kitchen, or how to add needed ventilation in the bathroom to accommodate your new steam shower. Taking advantage of their expertise means a new space that is as functional as it is beautiful!
The Devil Is In the Details!
Never overlook the many details that can "make or break" your kitchen or bathroom remodel, and which are handled by a remodeling contractor with ease. As an example, if you were to install larger appliances in your kitchen, you might forget to measure the clearance needed for their doors! It's not unusual for homeowners who handle their own Boise kitchen renovations to end up with stove and dishwasher doors that bump into nearby drawers, or vice versa.
A remodeling contractor will also ensure that new flooring tiles and kitchen cabinets are installed level and even, avoiding an unsightly look and ensuring doors and drawers open and close easily. They will also ensure that lighting fixtures and other such details fit your plan for kitchen and bathroom renovations, so that you're happy with your new space or spaces for many years to come!
Keep these points in mind if you're tempted to handle a kitchen or bathroom renovation in Boise on your own. Hiring remodeling contractors is well worth the investment, as they can ensure the job is done safely, up to code, and according to your every need!