7 Clever Storage Ideas For Your Living Room
by Rohit on Apr 5, 2020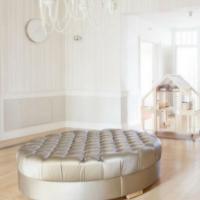 Looking for some creative storage ideas in your living room?
We have compiled some smart ideas to organize your living room elegantly while availing yourself of more storage and space.
Let's have a look at some creative storage ideas.
1. Choose Double-Duty Furniture
To fit everything comfortably in your living room without it appearing cluttered and unorganized, you must think smart.
If you opt for multi-purpose furniture, you will get extra storage space without compromising the elegance of the room.
Your end tables can do more than sitting pretty in a corner if they're equipped with a closed storage cabinet or drawers.
Similarly, go with a double-decker coffee table, a sofa that doubles as a bed, a convertible chair, a bench with shoe storage, and so on.
2. Get a Storage Ottoman or Storage Baskets
Storage ottomans are a convenient yet stylish solution for storing blankets, prayer mats, magazines, toys frequently used by kids, and more.
Not only do they provide comfort to your feet, but can also double up as additional seating when the need arises.
Pro tip: You can get a wood or glass-top surface and use it as a coffee table too!
Another item you can use is a storage nesting basket, which enhances the character of a living room and allows you to hide the additional clutter lying around.
3. Use Nesting Tables
Get extra table space without giving up any floor space using nesting tables.
These tables are a great asset for the living room and are available in almost every material, and are creatively designed in different shapes and styles.
They appear elegant when placed next to the couch or an armchair and are practical when you have guests around as you can pull the required tables and keep the rest stacked neatly.
4. Consider Built-In Shelves
If you have several books and less storage space, built-in bookshelves will be your saving grace.
They add a unique style to the living room while saving floor space, which would otherwise be occupied by a bulky bookshelf. Your built-in bookshelf can also be an accent element.
Paint the shelves in a contrasting color to make them pop, or build two built-in shelves and create a divider with an elegant console table with a statement mirror above it.
5. Ditch Floor Lamps
Wall-mounted lighting fixtures or wall sconces free up floor space and are available in various designs, styles, and colors.
Even though floor lamps take up only so much space, that tiny space could be valuable if your living room isn't large enough.
Wall sconces enhance your living room features with their diverse designs and set an intimate and cozy mood while saving up on your energy costs.
However, you can still get a floor lamp but a double-duty one with shelves and drawers so you get the benefit of lighting and storage.
6. Get Strategic With Wall Decor
Organizing your clutter into a pleasant mess requires creative thinking and smart execution. You shouldn't leave your walls empty and dull with no decor to add an aesthetic value to the living room.
But what about the storage space you'll give up?
Fortunately, the contemporary style wall decor for the living room with storage capacity clears all your dilemmas. Install quirky-shaped shelves, and floating shelves to place your wall decor and your valuables.
7. Invest In A Smart Entertainment Unit 
Entertainment units can be multi-purpose with little customization and investment.
Since they require enough space for a TV, gaming console, cable box, and so on, you can expand it by adding more shelves, cabinets, and drawers.
Utilize those compartments for displaying decorative items, lamps, planters; or storing blankets, throws, pillows, books, toolbox, toys and so much more.
Creating storage space is tricky and requires clever techniques.
Hopefully, the above ideas allow you to create storage while maintaining the elegance of your living room.