How to Protect Your Home from Carbon Monoxide
by Katherine Watkins on Nov 1, 2011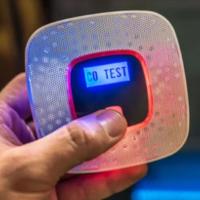 Colorless and odorless, carbon monoxide is a gas produced through the incomplete burning of organic substances, including fuels. An estimated 500 deaths are attributed to carbon monoxide poisoning in US homes each year, and as many as 15,000 people a year are treated or examined for ill effects caused by it, including flu-like symptoms, headaches, fatigue, and nausea. Thankfully, there are some relatively simple ways to avoid carbon monoxide poisoning in your home.
Know the sources
Being aware of where carbon monoxide comes from is the first step to protecting your home and family from its dangers. Furnaces, water heaters, space heaters, gas cooking stoves, clothes dryers, and fireplaces can all be sources of increased carbon monoxide in a home.
Protect your home
Several simple steps can be taken to help protect loved ones from possible carbon monoxide poisoning.
Use a professional – Have the home's heating system and water heater inspected on an annual basis by a qualified technician. Repair any leaks immediately. The furnace should have an adequate intake of outside air. If a fireplace is used, check the vents and clear them of any debris.
Certificates – If you live in rented accommodation, ask to see the landlord's gas safety certificate, which will show that appliances have been inspected by a professional technician and are in safe working order.
Heating – When using kerosene space heaters, make sure the room in which they operate is well ventilated and always use the recommended type of fuel. Never use a gas range to heat a room. When making repairs to vent pipes, avoid using a makeshift patch to fix leaks as this can lead to an accumulation of carbon monoxide levels.
Garages – Avoid running a car or other motorized engines inside a garage that is connected to the house. If the engine must be run, be sure to open the outside door and close the door connecting the house to the garage.
Know the signs – Some physical signs may indicate a fuel-burning appliance is not in proper working order. Look for streaks of soot around the appliance, excess moisture found on windows, walls or other cold surfaces, and smoky smells. The flames in a combustion appliance should always be blue, so another danger sign is if they burn orange or yellow.
Install detectors – Carbon monoxide alarms detect when excess levels of carbon monoxide are in the air and sound a warning. All detectors should be certified by a nationally recognized testing laboratory and the manufacturer's instructions for placement must be followed. Some states require carbon monoxide detectors to be placed within so many feet of every room legally used for sleeping. At a minimum, it is recommended to have one detector on every floor in which a room is used for sleeping.
Carbon monoxide is known as the silent killer because elevated levels of this gas may be in a home long before anyone knows it. That is why it is so important to make sure combustion appliances are in proper working order and they should be inspected every year. With just a few precautions, accidents can be easily avoided.