3 Easy Bathroom Murals
by Guest Post on Nov 29, 2010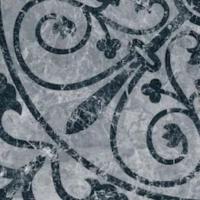 When you need a new look for your bathroom, there are many different styles and looks available. Traditional bathroom decor is now joined with modern design, whimsical patterns, and looks that were never considered bathroom designs in the past. To accompany these looks there are wallpaper borders, framed prints, and vinyl wall decals.
While they may work well in other areas of the home, sometimes those types of decor do not hold up well in the moisture-rich environment of the bathroom. Instead of wasting money on things that will not last, try painting a wall mural instead. Bathroom murals are fun and easy to create; they can be inspired by what is in the bathroom, or inspire the rest of the bathroom's decor.
The three easy bathroom murals below can go with a variety of themes and will make a striking impact on your bathroom's design.
The Moon and Stars
One popular bathroom theme is a moon and stars design. Begin by painting the walls white or navy blue. Navy blue may seem like a radical choice, but if your bathroom receives a lot of natural light, it is actually a great choice. Mix in a small tube of glitter with the paint before you begin and you will have a naturally sparkling wall. After the base coat dries, use yellow or fluorescent paint to paint on the stars and the moon. You can paint the stars in a whimsical fashion, bold and funky, or you can paint stars as constellations. If you are unsure as to how to paint them, use sun and moon patterns on towels or accessories to guide you.
Rubber Ducky
There is something about those cheerful, yellow rubber duckies made famous on a popular children's show that makes people smile. Why not bring that cheerful theme into your bathroom with a rubber ducky wall mural? It is a sure way to make those who use the bathroom grin. If you have one wall to paint, consider painting a filled, claw foot tub, with a rubber ducky bobbing on the surface. However, if you have more than one wall to paint, a rubber ducky collage would work just as well. Begin by painting the basic rubber ducky design in a random pattern around the room. You can choose to make all the rubber duckies the same, or you can create some theme ducks to add interest. Police ducks, diva star ducks, and pirate ducks are always popular choices.
Open Window
Another fun wall mural for the bathroom may be that of a window. Imagine the view looking out of a window. You can paint any scene on the other side of the window that you would like. Would it be of Paris or a farm? Would it be daytime or sunset? There is no limit to the number of possibilities. Imagining what would be on the other side of the window will help determine how your bathroom is decorated. Or, how your bathroom is decorated will dictate what it outside your mural window. You can add an actual windowsill and frame to the mural to give it an authentic look and feel.