3 Simple Ways to Give Your Living Room a Quick Makeover
by Guest on Mar 26, 2013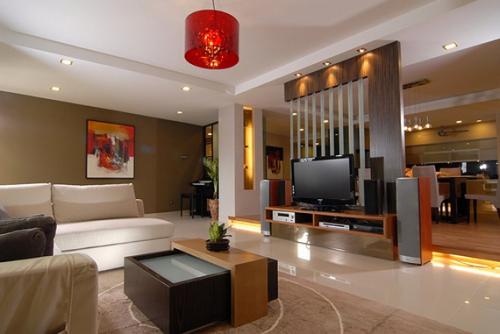 If your living room needs more life, you don't need to roll up your sleeves, repaint, and install new carpet to achieve it. The answer to your decor dilemma may be closer - and more affordable - than you think. With a few simple tricks, you can transform the look and feel of a room into something fresh, exciting, and budget-friendly. Stop avoiding your stale space and start living in it instead by trying a few of these tips:
Move Your Furniture
Just shifting the large components of a room can completely change the flow and experience it provides. Slide your sofa against a side wall instead of a back wall or centered in the room and see how the rest of your furniture looks. Bring in a forgotten side table or decorative chair from elsewhere in the house, move to throw rugs to different positions, or change the location of hanging pieces like mirrors to make the most of natural lighting. These efforts allow you to make the most of the items you already own, displaying them in a new way that gives them new life.
Bring The Outdoors Inside
If all of your existing colors rely on pictures and fabric, it may be time to add some of Mother Nature's original palette. A hardy houseplant will add a pop of green and instantly brighten the room, and rotating a weekly bunch of flowers through a large glass container or vase will lend a cheerful air to your living room. If the upkeep of natural plants isn't a good fit for your schedule, unusual faux plants like a spray of pussywillow buds or silk orchid are fun and unexpected alternatives. If you're short on surface space, try popping a square of artificial grass in an inexpensive frame and hanging it on the wall.
Revitalize With Fabric
Replacing large focal pieces like a sofa would normally cost a great deal of money, but the addition of a well-made slipcover gives the same effect for much less. Swap out a boring beige for a vibrant blue or a whimsical pattern in moments just by adding a new slipcover. The effect can also be intensified through matching or contrasting throw pillows, which are not only comfortable but soften the edges of a couch or chair to make it more inviting to your guests. With the money you'll save by not buying a new couch, you can afford several new slipcovers and pillow sets to change out on a whim.
Renovating your living room doesn't have to mean burning through piles of cash in pursuit of a perfect room - it can also mean using your sense of creativity to make the most of the items you already have. Your new room is only a shift, shove, and slipcover away when you know where to look. Want an envy-inspiring room that your guests will shower compliments on with every visit? Take a careful look around, make some plans, and rediscover your style through an inexpensive redecorating spree in your living room today.
Leah Woodward is an interior designer with a penchant for living spaces. Her articles mainly appear on interior design and home improvement blogs. For viewing sofa covers online, visit the link.