Choosing a Modern Living Room Design
by Guest Post on Feb 14, 2020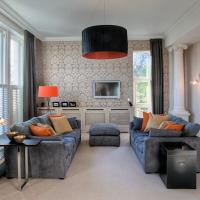 If you're thinking about redecorating your living room, you might want to go for a total design overhaul. While something traditional is all very well, it doesn't allow a lot of your personality to shine through and can look dated if not approached in the right way. Instead, why not go for something a little different and inject a splash of character into what tends to be one of the busiest rooms in a house with something more modern and interesting?
With so many designs available nowadays, it can also be hard to choose something that you think looks good, is unique, and is designed to last for years to come. You can always ask help from a professional interior designer, but it doesn't hurt to start building up a few ideas of your own. Take a look at our brief guide on choosing your next modern living room design.
Picking your Colour Palette
The easiest way to come up with a new design scheme is to select a color palette. An extremely modern color scheme to go for is macaroon-inspired pastel shades. Lots of people find it difficult to see how this will translate into a living room, but if you work with the right design company, it can look extremely chic and elegant. Stop it from looking too childish with leather furnishings or sophisticated glass to keep it grown up.
Green is a lovely modern color that works surprisingly well in a living room, despite being an often-overlooked color in many design schemes. Rich, powerful greens, such as strong emeralds and bold teals, work particularly well. Gold accessories make the look opulent, although they can overpower more muted colors so use your gold tones wisely.
Natural or Artificial?
Metallics combine well with crisp white for a truly modern twist on a design classic. All-white living rooms can look like they belong in a celebrity magazine, so tone it down a bit with edgy bronze and warm browns to give the room a bit of color. The key with white rooms is to add visual interest by mixing up textures. The scatter cushion is out for 2013, and the shaggy rug is firmly in. For a kitsch twist, a stained glass window will send rainbow colors streaming across a plain room to liven it up.
Acrylic shelving and stainless steel cabinetry can give a futuristic, almost sterile modern design look, whereas natural, unvarnished pines and oaks transform the room into a relaxing haven. The notion of the 'indoor garden' is very much in vogue, so add an assortment of interesting plants and flower arrangements to blur the boundaries between the outside and inside.
Expose the Inner Workings of the Property
Exposed brickwork remains a highly modern way to create a New York loft effect. Exposed brickwork is also a great way of saving time, effort, and money on picking out the right wallpaper design or wall color. However, it is important that the exposed brickwork is properly treated and sealed in order to prevent moisture from getting in. Along the same vein, older properties often have timber beams exposed on the lower flows, giving a timeless and natural look. For a traditional design choice that still maintains its originality, exposing the inner working of your home can work to your advantage.
Finishing Touches
Where you can, try to mix things up a little with opulent furniture, such as a vintage chaise longue or a solid oak coffee table, to avoid the room looking too clichéd. Low-hanging lights and art are the keys to certain styles of modern interior design, so head to some galleries to pick out your favorites, or if you're on a budget get creative yourself with some brightly colored paint to create some vibrant, eclectic abstract masterpieces.
Sometimes it is the little details that make all the difference, so don't be frightened to splash out a little with finishing touches and lively centerpieces when finishing off your living room design. If you are ever stuck for ideas, try looking at the latest house and home magazines for inspiration, or get in touch with your local interior design professional. They will be able to point you in the right direction when looking at modern features to suit both your home and your lifestyle.
Article provided by Mike James, an independent content writer working together with South East England based interior design specialist Furnished by Anna, who was consulted over the information in this post.