Creative Shower Ideas for your Bathroom
by Guest on Feb 21, 2018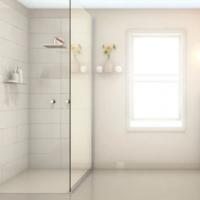 Showers are so important in our lives. Not only they are necessary for everyday cleaning but having a comfortable shower space soothes our mental condition too. Probably all of us look forward to a refreshing shower after a hard day at work. Showers are great for releasing tension and stress but what happens when your bathroom itself is depressing. People don't pay attention to bathroom décor when buying houses and live with custom-made bathroom designs and décor for the rest of their life. I think it is time people start customizing their bathrooms according to their personalities. This will make them feel at home and generally happy.
Now, when people think about bathroom décor, only expensive and majestic designs come to their mind. However, even a little modification to the design can change the outlook of a bathroom completely, such as showers. Only customizing your shower enclosure can make it more refreshing and relaxing. Bathroom International showers have some great ideas that can transform your bathrooms to suit your tastes. That said, here are some fun and creative shower ideas you should consider before renovating your bathroom.
Add an Eye-Catching Focal Wall
Focal walls are the backdrop of your shower space. In plain words, the background. You often see intricate focal walls in bathroom advertisements that make them look absolutely stunning. Focal walls are expensive to install because they involve detailed patterns and stonework, however, they are a great investment if you plan on living in the same house for a long time. You can install paintings as a focal wall as well. This will give your bathroom a majestic feel.
Add Vibrant Colors
White, black, and grey are standard colors for bathroom décor which makes the bathrooms seem cold and uninviting. To infuse new life into your lifeless bathroom try adding vibrant colors like orange, red, or yellow to your shower space. You don't have to change the color theme of your bathroom completely, just add a single color that compliments your bathroom décor and gives it a warm atmosphere at the same time.
Shower Lightning
Speaking of a warm atmosphere, the lightning in your bathroom affects your mood. Proper lighting makes the bathroom more inviting. A huge plus point of shower lighting is that it's inexpensive. You can change the outlook of your bathroom by installing the right lights in the right places to create a stunning effect.
Shower Spa
Another idea that has been popular lately is the shower spa. Combing the spa features like steam baths and showers makes bathrooms more convenient as well as comfortable. You can enjoy your bath at great length with these features.
Mixing Tiles
If you want to transform your bathroom instantly, then try replacing the floor and wall tiles. Most shower spaces have horizontal tile patterns, change them to vertical and you will see entirely different results. Moreover, merely tiling the shower area in different colors and patterns creates a focal wall that gives your bathroom a fun and creative appearance.