Tips for You to Remodel Kitchen Cabinets Easily
by Guest Post on Sep 7, 2010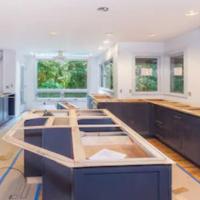 Of all the home renovations that can be done, kitchen remodeling is perhaps the most difficult. This is because it can be the most expensive of all the renovations. Plus you need someone managing the job and also you need to get a person to do the whole job efficiently. Where expenses are concerned, the remodeling of kitchen cabinets can take up almost 60 percent of the cost of whole kitchen works and remodeling. While you are intending to remodel the kitchen wholly, you must remember that remodeling the kitchen cabinets are the most expensive part of renovating the whole thing.
There are certain tips you should consider in case of remodeling kitchen cabinets:
The average lifespan of a kitchen cabinet is of about 30 years and therefore before installing, you should know the details and intricacies of a kitchen cabinet so that you are aware of how and where you are investing your money and whether it is at all worth it. Therefore, you should pay heed to the style, trims, finish, and joinery of the cabinet and the quality level of the hardware being used.
There is a huge variety of kitchen cabinets available in the markets in terms of price, design, and kind. While on one hand, you can have inexpensive cabinets of laminate face costing a few hundred dollars, on the other hand, you can have a few thousand dollars kitchen cabinets with hardwood doors, glass inserts, and ceiling trims. While choosing the type of kitchen cabinets you should be aware of the fact that most lineal foot cabinets do not incorporate countertops or cabinet installations. Hence, it is best to go for a kitchen cabinet that is affordable and suits your budget perfectly.
Estimating the cost of kitchen cabinets is not easy because it is not easy to measure the area required to be occupied by the cabinets. However, two particular areas need to be measured, the area that will be occupied by the kitchen cabinets on the floor and the area that will be occupied by the kitchen cabinets on the wall. Once you have measured the length of the area covered by the base cabinets, you can find the sizes of the cabinets required and the space they will occupy.