Add Value with Better Bathroom Design
by Boris Dzhingarov on Feb 15, 2020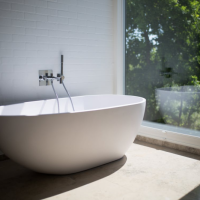 Enhancing your home can increase the value of your property, as well as create a more comfortable living environment. Whether you live in a one-bed apartment or a spacious family home, a bathroom is a critical part of the property.
Renovating your bathroom can be an exciting way to rejuvenate your property. With the potential to maximize the space available, improve functionality and choose new decorative features, a new bathroom could be a great way to add value to your property.
To ensure you get the most out of your new bathroom design, take a look at these top tips:
1. Maximize the Space
If you have a small bathroom, do what you can to maximize the space available. Choosing compact fixtures and fittings will prevent the room from feeling crowded. Innovative designs, such as corner sinks, are a great way to make the most of the space available. Furthermore, consider installing a wet room, as opposed to a traditional shower. With no need for a shower screen or tub, a wet room can make your bathroom seem significantly larger and more luxurious.
2. Prioritize Safety
The bathroom is where most household injuries occur, so be sure to consider safety and convenience when you're designing your new bathroom. Choosing non-slip tiles is a simple way to enhance safety, for example. In addition to this, you may want to consider installing grab rails and handles in discreet locations. With numerous designs available, these can even enhance the décor, while ensuring you have a safe family bathroom.
3. Look Behind the Scenes
When you're planning a bathroom, it's easy to get caught up with the aesthetic. However, it's important to ensure that your setup will facilitate the latest fixtures and fittings. If you want the latest shower design, for example, you'll need to ensure your system offers enough water pressure. Although this is easily remedied by installing additional pumps or an electric-powered shower, it's important to assess whether this is necessary before work begins.
4. Incorporate Storage
Most bathrooms are short on storage, which reduces their functionality. If you want to ensure your new bathroom is an oasis of tranquility, incorporate storage into the design process. Choosing sink units, as opposed to floating sinks, is a great way to add built-in storage space, without detracting from your décor.
5. Get Expert Advice
Before you start your project, be sure to seek expert advice. With help from a plumber, you can explore design ideas and enhance the functionality of your fittings. What's more, a professional plumbing firm will be able to give you critical information about how to maximize the space and bring your ideas to life.
Planning Your New Bathroom
For most people, a new bathroom will last for years. If you don't plan on updating your bathroom for a while, it's important to get the design right. Although you may be eager to get started straight away, it's worth taking the time to seek professional assistance when creating the perfect bathroom design.