Bringing an Old Fridge Back to Like New Condition - Top Tips
by Boris Dzhingarov on Feb 11, 2020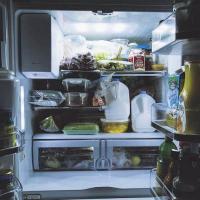 Fresh new shiny appliances for your kitchen are always exciting. They work smoothly, look modern and sleek, and add a touch of elegance to the kitchen. But these major appliances don't come cheap, and typically aren't something you want to replace on a regular basis. So, what happens if you've got a refrigerator that still gets the job done, but is far from new and fresh looking? Can you get it back to like-new condition and not have it looking like an eyesore?
Here are some simple tips you can do that breathe life back into that old refrigerator.
It's Time for a Deep Cleaning – Inside and Out
The best place to start is of course with a deep cleaning, both inside and outside. This shouldn't be a quick once over - we are talking deep cleaning. You'd be amazed at just how much dirt, grime, spills, and stains can accumulate in the fridge over time, which start to smell and just look plain gross.
To clean the fridge properly, you're going to need to start by emptying all the contents. Once all the food has been removed, you will get a look at what you're truly working with. If the fridge has removable shelves, these should be taken out too. Shelves can be cleaned in warm, mild soapy water. That same soap water can be used on a cloth to clean the insides, taking special care with stains and spills. Just be sure to follow up with a clean damp cloth to wipe up any soap residue.
There are plenty of cleaning products that you can use for the outside of the fridge, as it depends on the finish of the fridge itself. Stainless steel is going to require cleaners that are specifically made for that type of finish so as not to leave streaks and marks.
Replace the Water Filter
This is also an excellent time to check the status of the water filters in the refrigerator and replace them if needed. These filters are responsible for keeping your water fresh and clean, so replacing them on a regular basis is key. If you've been noticing the water that comes out of the dispenser is cloudy, smelly, or just tastes "odd", it's likely the filter that is to blame.
You can easily order the correct type of filter online through the discount filter store and have it delivered straight to your house. Switching out the filters is quick and easy, instantly boosting the quality of the water.
Deodorize the Fridge
Now that you've cleaned the fridge from top to bottom, and replaced the filter, it's time to deodorize it. This means you will have no foul smell coming from the fridge and will ensure it stays fresh. The easiest way to deodorize is to leave an open container of baking soda on a middle shelf. It should be kept there for at least 24 hours in order to absorb smells. Some people prefer to permanently leave a box in the fridge, changing it out every week.
Other items that can take away foul smells are leaving a freshly sliced orange or lemon in the fridge for 24 hours, or fresh ground coffee beans.
Bringing Your Appliance Back to Life
Following these tips will allow you to freshen up your fridge and give it life once again.