How to Make Your Kitchen Organized and Functional
by Nick Marr on Sep 27, 2022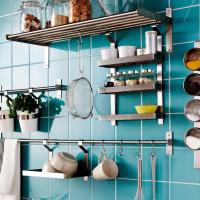 The kitchen is the focal point of your home, used for everything from hurried breakfasts before you run out the door to family feasts and having a cup of tea with friends. You must put a lot of effort into it and make it as beautiful as possible. 
The kitchen should be a place you love being in, whether you're cooking, cleaning, dining, or entertaining, and smart kitchen design may help achieve that. 
These suggestions will assist you in creating a kitchen that you'll love, whether you're remodeling an existing kitchen or building a brand new house with the plans of Truoba modern homes. Follow our recommendations on planning, organizing, and must-have features when designing a kitchen layout to create a space that is both attractive to look at and effective for all of your needs.
The work triangle
The work triangle is a vital component to take into account when creating a practical kitchen. If you are unfamiliar, the work triangle in a kitchen features the stove, the sink, and the refrigerator as its three main points of interaction. The foundation of the work triangle is the notion that a person should have easy access to all three of them. 
When planning your kitchen's layout, keep the work triangle in mind for increased functionality. All you have to do is make sure the work triangle's route is clear of obstructions. If you don't have a problem with space, adding an island to your kitchen can help you set up a useful work triangle.
Pick cabinets that reach the ceiling
Any kitchen can benefit from having cabinets that reach the ceiling, but smaller kitchens benefit most from having them. Reach-to-the-ceiling cabinets draw the gaze upward, giving the impression that the room is much bigger than it actually is.
Additionally, cupboards that reach the ceiling offer additional storage space for cookware, mini-appliances, serving ware, and other infrequently used things.
Lighting plays a crucial role
Incorporate under-cabinet, inside-cabinet, and in-drawer lights. The installation of lights in drawers and cabinets not only makes it simpler to brighten work surfaces but also enables you to locate what you're looking for and has a wow factor that is difficult to ignore.
Organize items within reach
Consider what you intend to keep in the cabinet and the height of storage containers or commonly used items before organizing it and other food storage locations. Install pantry shelves at the correct height once you are confident that everything will match up in the pantry. The decision of whether or not the pantry will accommodate any small gadgets should be made at the planning stage of the kitchen. If that's the case, be sure to provide enough place for such things as well.
It's critical to keep in mind that not all people use their kitchen in the same way when working on any kitchen makeover. Your practical kitchen is tailored to your specific requirements and may not be the same as other people's. We hope that our insightful advice has motivated you to begin remodeling your kitchen.