5 Gorgeous Tubs That Will Make You Want to Renovate Your Bathroom
by Guest Post on Dec 27, 2017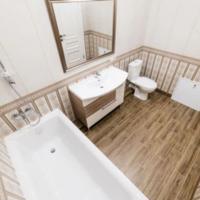 It is easy to get lost when trying to breathe some new life into your bathroom since there is no shortage of options when it comes to tub designs. If you are looking for motivation to renovate it in the first place, you are going to get swayed away by what's possible if you know what to look for. After all, the design choices are nearly limitless and allow you to create everything you've envisioned in your mind.
1. Stone tubs
Stone tubs are one of the most durable choices you can make, while also being gorgeous to look at. You'll be able to spend an eternity in there without ever having to worry about damaging something. One of the traits all stone tubs share is that they're excellent at retaining heat, making them a natural choice for those who are just dying for a nice hot bath after a long day of work.
2. Freestanding tubs
Nothing makes a better statement than placing a freestanding tub in the middle of your bathroom. But more than anything else, freestanding tubs are great for better utilizing the space you have available in your bathroom since oftentimes, nothing is placed in the middle, leaving all this space to go to waste. Also, due to their accessibility, cleaning them is nothing but a breeze.
3. Acrylic tubs
People often decide to go for acrylic tubs due to how affordable they are. Being easy to install also helps a great deal. However, due to the relatively lower strength of its core materials, it's best to place it next to a more solid construction like a wall. The downside, though, is that they're prone to cracking if not properly cared for. It's estimated that with proper maintenance, acrylic tabs will last you for 30 years.
4. Corner bathtubs
Corner bathtubs will please you if you're a traditionalist at heart. While they come in different shapes, the triangular one is the most common choice by far. Being placed next to a wall, they allow for a pleasant bathing experience, and if you decide you want a little bit of extra view or sunlight, you can also place them right next to a window.
5. Deck mounted tubs
Also known as "platform" and "drop-in" tubs, this unique tub style comes with a deck installation that allows for installing various cool add-ons such as additional lights and whirlpools. By choosing this style, make sure the panels are removable since this will make the repairs much easier to pull off whenever you need them. By strategically placing the tub on a carefully chosen spot in your bathroom, it's also possible to get that additional element of privacy or prevent the wind from blowing your way if you like to let the window open.
Conclusion
Bear in mind these are only a couple of ideas on what you can do with your bathroom design. Being given the chance to select between various tub styles and different materials, it's possible to achieve that exact middle line between the style and functionality of a bathtub you've always wanted.