How Gutter Guards Keep Out Leaves and Those Annoying Little Critters
by Grand Marketing Solutions on Nov 21, 2018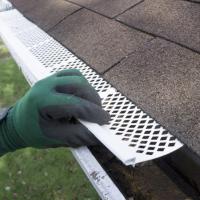 Though a gutter guard doesn't make your gutter system completely maintenance-free, it does reduce the amount of maintenance you'll need to perform and make that maintenance easier when you do. Taking the time to understand how these products work will help guide you in the right direction when you make your purchase.
Different Styles and Materials to Keep Out Different Types of Debris
It's important to first understand that there are many different types of gutter guards. Some fit inside your gutter, much like a sponge, allowing water to go through but preventing anything bigger than a grain of dust from entering the system. Some are made of mesh or micro-mesh, which is designed to keep even small bits of debris like pine needles out of your system. Finally, you'll find snap-on solid guards that allow leaves to simply slough off the side while still trapping rainfall inside.
To decide which style works best for your needs, it is important to first think about your unique situation. If you're dealing with pine needles, the drop-in foam filters can keep them out, but if you get a lot of rainfall in short order, you may need to stick with a micro-mesh, instead. If leaves are your only concern, standard mesh or snap-on solid guards can keep them out. Finally, if you're worried about pests like mice and birds, it's important to purchase guards that do not offer enough free space for them to enter.
Keeping Leaves Out of Your Gutter
Piled-up leaves can be detrimental to your gutter system because they will not allow rainwater to flow through at the rate it should. In the winter, as water freezes, it will freeze around those leaves and cause blockages. What's more, the weight of the ice can cause your gutters to sag and pull away from your home, which might result in serious (and expensive) damage. These clogs can lead to ice dams, and inevitably, the ice backup can cause roof damage that costs thousands of dollars to repair. Though cleaning your gutters once or twice a year as needed is vital to preventing this, installing gutter guards can make this process far simpler.
Preventing Pests with Gutter Guards
Wet leaves and exposed gutter systems are ideal homes for rodents and other pests – especially as the temperatures start to drop. These critters can use your home to levy the wind and keep warm, and many will even build their nests in your gutters. The only way to prevent this is to install a gutter guard that covers every opening and deters these animals from entering and making nests. You should also install screens in your downspouts to discourage animals from entering the system in that way, too. By doing so, these pests will likely turn to other homes or other locations rather than continuing to find a warm spot on your property.
If you think gutter guards are unnecessary, it may be time to think again. They do far more than just prevent leaves and acorns from entering your gutter system; they can also help prevent major damage to your home and keep rodent or bird infestations at a minimum.