5 Tips for Refreshing Your Bathroom
by Nick Marr on Jul 14, 2022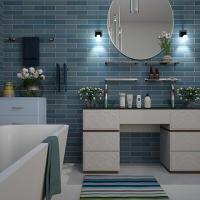 The daily steam and moisture in your bathroom make it a breeding zone for mold and mildew, increasing the risk of respiratory illnesses and impacting aesthetic appeal. A bathroom refreshment project is a cost-effective way to improve your bathroom's appeal while enhancing your daily bathing experiences.
Before refreshing your bathroom, determine what you want to achieve, including mimicking a look you spotted on social media or turning it into a trendy, modern space. This article outlines five tips for refreshing your bathroom.
Install bathroom wall tiles
Tiles are ideal for your bathroom walls since they're water-resistant, easy to maintain, and long-lasting. Tiles come in various designs, making them suitable for redecorating. This lets you pick a style that perfectly suits your home. In addition, tiles come in different materials, including natural stone to give your bathroom a luxurious look, glass for brightening it, and porcelain for smooth finishes.
Tiles are a cost-effective solution that helps maintain appeal and quality for years. Since they're modern and stylish, wall tiles are an ideal bathroom statement piece. Consider engaging bathroom renovation experts for a professionally done wall tile. Click here to learn more.
Add a mirror
Mirrors are a great solution when you want to make your bathroom seem bigger, are looking for design tricks to improve a cramped bathroom, or want square footage without any construction. When placed near a light source, a mirror reflects the light to make it bounce back into the room, amplifying the overall brightness. You can also use mirrors for brighter corners, to create a wow factor, and add a sense of drama and visual interest to your bathroom.
To leverage mirrors in your bathroom design, use full-length mirrors for the bath, hang some behind light fixtures, and place one across from a window. Try making the most of decorative mirrors, including mirrored vases, backsplashes, perfume trays, and more, to diversify your bathroom design.
Increase storage space
Bathroom storage spaces are a great way to keep it clean and organized. This makes the bathroom more attractive, improves functionality, makes it easier to find toiletries, and makes it more sanitary. Look for viable bathroom storage ideas like a mirrored cabinet, add drawers, leverage a vanity unit, free-standing trolley, cabinets, hang mirrored cabinets, and more.
Deep clean your bathroom
Deep cleaning your bathroom improves its appeal and ensures its functioning at its best. Bathrooms are a breeding zone for bacteria and germs. A good scrub helps maintain a healthy environment, prevents unpleasant odors, makes it safer, ensures its presentable, and boosts your mood. Keeping your bathroom consistently clean with regular deep cleaning helps maintain your home's resale value. Invest in deep cleaning service for better results.
Accessorize your bathroom
The right choice of bathroom accessories can help bring elegance and style while expanding the bathroom's functionality. You can accessorize with paintings, bath mats, flowers, vinyl, toothbrush holders, soap dispensers, wall hooks, and more.
Endnote
Bathroom refreshing projects are an excellent way to update your bathroom while improving its appeal. Use these tips to refresh your bathroom.