Bathroom Tile Installation -- Do not Make This Mistake
by Guest Post on Feb 24, 2010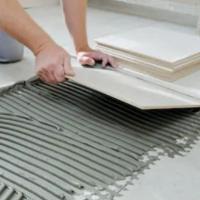 Bathroom tile installation is a natural upgrade for any bathroom. Though ceramic tile is usually left to the pros, a handy person can easily do tile work. One trap that can get you through, especially with bathroom floor tile, can turn your project to a disaster.
Ever noticed cracks in ceramic tile floors? That's a common sight and it usually has the same cause. The common cause is taking a shortcut at the very start of a tile project. After the shortcut, the project is doomed to failure. What's the shortcut?
It's simple. Many people don't take the time to build a solid foundation for a tile floor. You know that especially in bathrooms, you often have water damage to the floors. With water damage comes rot and then spongy places. Now if you just cover up a floor that moves with ceramic tile, it'll look great at first. But that floor still is going to move.
When it moves the tile or tile joints will crack. There's no way around it. Now comes the constant filling of cracks, regrouting, and caulk. All these short-term measures are doomed to fail. But is there a way to avoid all this?
The best way to assure a solid foundation for ceramic tile is to use cement board as a base. Of course not over concrete and the cement board needs a fairly sound surface to fasten to. But the cement board is rigid and is an excellent base for tile adhesives too. The usual product is the Hardi-Backer board.
Cement board is easy to cut and can be scored and broken too. It's heavy though so it's not too easy to move around. Then you fasten it down with special screws. Working with this material is much like working with sheetrock. It solves the poor foundation problem when laying tile.
A good foundation is a must when doing bathroom tile installation. The best way to guarantee a solid foundation in most cases is by using a cement board for a base coat. This is just one of the many tricks that tile setters use. Some of the tricks you just about have to see to understand.