Keep the Light in Bathroom Mirrors
by Guest Post on Feb 24, 2010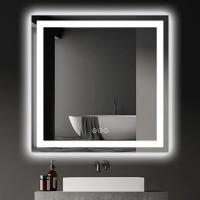 When you enter a bathroom, you would most probably be looking for a mirror to check on your look or to use the mirror to retouch your make-up. Most bathrooms have mirrors and you would not be so surprised if many people would want to keep well-maintained bathroom mirrors to keep their time inside the bathroom more worthwhile.

With the big role that the bathroom mirrors have, their design can make or break the actual look of the bathroom in general. Thus, you have to keep a good atmosphere and find time in selecting the right kind of mirror in your bathroom.

You will have to find the right kind, style, and shape of a mirror that can match the function that you need and the general look of the bathroom. It should complement the general look of the room or enhance it. However, when you are not careful in choosing bathroom mirrors, you will have the risk of having a mirror that does not fit the entire atmosphere of the room.

To help you out, you should know that the lighting that the bathroom mirrors have will affect the general look of the mirror. You will also have to know that there are many ways to improve the mirror with the use of a good lighting technique. The lighting should not be too bright and glaring so that you will not have a hard time looking at your reflection. Also, gloomy lighting would not suitable as it is hard to keep the details of your look when the light is insufficient. Thus, you will only need the right combination of lighting and your mirror to make it fit.

Warm lighting would also be good for you since it can improve the way that you see your features in the mirror reflection. Also, you will have a better experience when you look at the mirror since it can reflect the skin the right way that you need.

Having a good reflection is important especially because it can change the way that you view yourself. Self-esteem can mean a lot so start investing time in finding the right kind of mirror that will be used in your bathroom. You will have a better view of yourself and also have higher self-esteem when you view your reflection better in a well-lighted mirror.