Granite Countertop Measurements and Templates
by Guest on May 12, 2012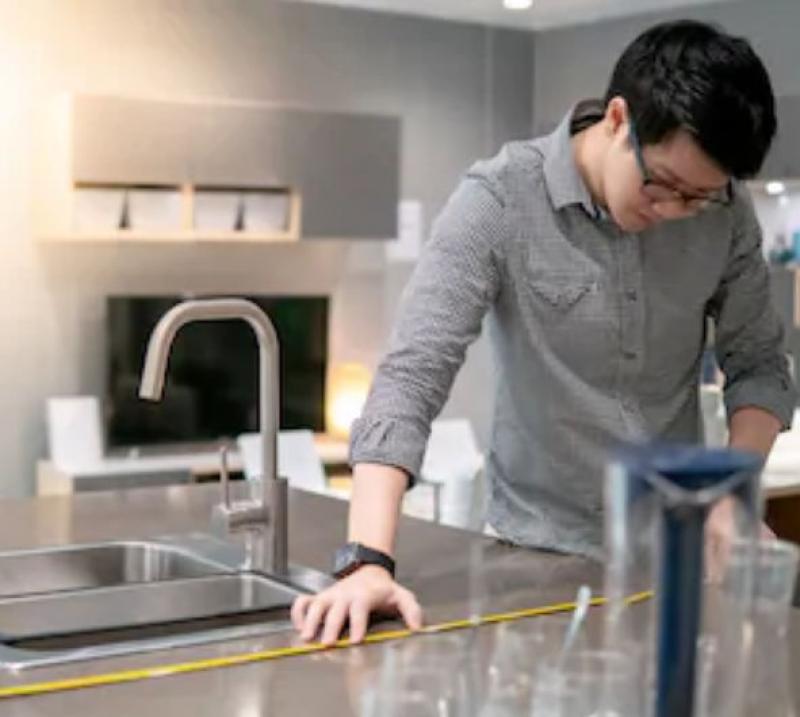 First, make a layout to keep track of your measurements. When measuring your kitchen, start at the wall and work your way to the end of the counter or the opposite wall. If your existing counters are still in place, remember to adjust for the thickness of your backsplashes. When working with bare cabinets, measure from the wall to the end of the cabinet. Then, indicate where the overhang will be located. The fabricator will help you determine the correct overhang measurement.
Mark the measurements on your layout in inches. Indicate where the finished edges, backsplashes, and appliances will go. You should also measure from the wall to the center of your sink. If you're unsure of the sink's center, measure to the point where the cabinet doors meet in the middle.
Templates
Many kitchens have counters that are angled or rounded. For such counters, fabrication requires templates. Professional template-makers use thin strips of plastic to outline the area. However, cardboard boxes are a handy substitute. Lay the flattened cardboard boxes on the surface. Then, from underneath, trace the outline of your cabinet or counter. Mark the top so that the fabricator will know which way is up. This is an important step: if this isn't clear, you may end up with a mirror image of your actual counter!
If you traced your existing counter, mark the template as such. If you traced bare cabinets, indicate where the overhang will be and how much overhang you would like. Mark the finished edges, the locations of any adjacent appliances, and the backsplash areas.
Conclusion
When you have finished measuring and making templates, take a look at the final result. Would someone who has never seen your kitchen be able to figure out what it looks like? Make any necessary corrections that would help the fabricator. Remember, small details can lead to large mistakes.
That's it! Once your fabricator has the templates and measurements, talk to him about the details of your project. It helps to plan ahead. If your home has obstacles, like stairs, elevators, or difficult doorways, your fabricator can cut the pieces to fit. Always inspect the finished product when you pick it up or receive it. Follow instructions for transporting the granite, and it's ready to install.