Stainless Steel Sink are for Lifetime Use
by Guest on Mar 12, 2010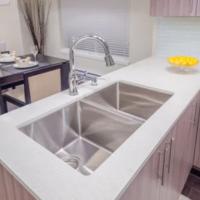 It is a good choice if you choose to use stainless material inside your house. Stainless steel sinks are the most common stainless materials inside our house. Using this stainless steel sink is very practical because it is durable and rust-free. Using this kind of material reflect the lifestyle that you have for it shows how practical you are in term of the things that you use.
Most of the time we want all things inside our kitchen area clean and organized. A stainless steel sink is easy to clean. All you need is warm water and mild soap, but most people are more particular when it comes to sanitary. In this matter, they usually use an anti-bacterial soap to maintain their sink germ frees. As we, all know that all stainless steel appliances are also stain-resistant, so you do not have to worry about cleaning these appliances. In short, they are easy to clean; in fact, you can just wipe it or even use a scrubbing pad on your kitchen appliances that are made of stainless steel.
Stainless steel sinks are very durable it can last for how many years without the danger of pitting and denting due to overuse or misuse. Today most metal kitchen appliances are made of stainless materials to be able to last them for a lifetime. You can also use enamel-covered basins but you must be careful in using them to avoid damage to the enamel so it will look good even after several uses of it. If you choose to install stainless steel sink at your home there will be a better chance that you do not have to replace that sink you have. This only proves that it is durable and more practical to use for everyday use. Durable basins are also practical materials that everyone should use because of the quality it possesses and the exclusive design it has. These appliances are exclusively designed for the everyday use of individuals who are practical enough in purchasing appliances.
Most of the time, you can find stainless steel sink in the market that has a price higher than the regular sink. If you are a practical individual, you will opt to buy that stainless sink that will last for a lifetime. You do not have to worry about changing it due to breakage because of frequent use. If you are particular when it comes to sanitary, at your home you will choose to buy these stainless appliances because it is a stain proof material with just wipe the surface, and cleaning is done. The quality remains even if you use it for how many years.
Eliza Maledevic Ayson
Stainless Steel Sink