The Complete Kitchen Remodeling Checklist
by Guest Post on May 30, 2014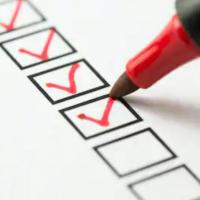 Even before a budget is worked out, the homeowner needs to figure out just what he or she wants in a kitchen remodel. Some remodels are little more than weekend make-overs while others can take weeks if not months. These remodel require tearing out walls and rearranging electricity and plumbing. Whatever type of remodeling it is, the homeowner will need a checklist. 
Cabinets
Cabinets are framed or unframed. Framed cabinets are the more traditional of the two. The frames allow the cabinets to be wider than frameless cabinets and keep them perfectly square and stable. Frameless cabinets have a door that's hung on a special kind of hinge. They give the cabinet a more modern look. Though frameless cabinets are a bit less stable than framed cabinets when they're not installed, once they are installed they're just as sturdy.
Vertical parts of cabinets are often made out of solid wood while the flat surfaces of cabinets are made of plywood, particleboard or MDF. These materials have less inclination to warp. Solid woods made from deciduous trees are called hardwoods. Woods made from conifers are called softwoods, even though the names have little to do with how hard or soft the wood is. 
It's best to have the wood finished at the manufacturer's before it's shipped to the home. That's because wood tends to warp with the changing humidity in a room.
Countertops
Countertops can come in all kinds of materials, including wood. A wood butcherblock countertop, however, should be kept away from the sink or wherever it may be exposed to water. Since it is wood, it can swell and rot if it's exposed to too much water. Other materials for countertops are:
Stone
This can be granite, slate, marble, limestone, soapstone, travertine or other types of stone. These countertops are uniquely beautiful, but porous stone like granite, marble, and limestone need to be sealed to protect against staining.
Laminate
Laminate is much less expensive than stone. It's easy to care for and resists staining. It can also be installed by the homeowner.
Stainless Steel
This alloy of iron and chrome is almost indestructible. It can stand high temperatures and can't be stained. However, over the years it will show scratches. Still, some homeowners who love to cook won't mind this.
Solid Surface
This tough material can be bought in all sorts of patterns and colors, even those that imitate granite and marble. Mild damage can be fixed with sandpaper.
Flooring
Flooring can be as varied as countertops. Floors can be made of laminate, which allows them to be installed over an existing floor. They can be made out of ceramic tile, resilient material, hardwood or stone. Some homeowners even install carpet, but the carpet should be very tough and mildew resistant. Synthetic carpeting might be good for a kitchen.
Sinks
Sinks can be perfectly utilitarian or works of art in themselves with beautiful decoration. The sink can have a single bowl, a double bowl or three bowls. The third bowl is usually attached to the garbage disposal unit. Other sinks can have built-in colanders, dishracks or chopping boards. Sinks can also be made out of many materials, including:
Porcelain
Fire clay
Composite materials
Solid Surface
Enameled cast iron
Enameled steel
Stainless steel
Soapstone
German Silver
Stone
Brass
Copper
Besides different materials, kitchen sinks can be self-rimming, rimmed, under-mounted or integral. Solid surface countertops often come with integral sinks. This makes leaking around the edges of the sink impossible
Lighting
Good lighting is essential in a kitchen. Light not only makes the kitchen look welcoming but is necessary for the safe running of a kitchen. Ideally, a kitchen should have at least one bright window. If the old kitchen didn't have one, it will be worth it to have one installed during the remodel.
As for artificial light, the homeowner will need to know exactly what sort of lighting he or she wants and where it well placed. They can be pendants, track lighting, recessed downlights, and fixtures mounted flush to the ceiling. Lights can be placed over the sink, in the toe kick area and even inside cabinets.