Tips on How to Build a Canopy Bed
by Guest Post on Apr 12, 2010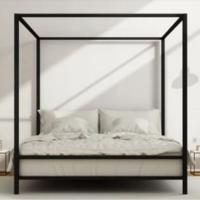 Almost everyone I met assumed that learning how to build a canopy bed is hard and costly. I don't know what it is about this bed that gives it a "costly" look when in fact, making this kind of bed is rather very simple.
Getting Started to Build a Canopy Bed
If you want the simplest way of building a canopy bed, you might want to consider just making a canopy frame for an existing bed.
It's also very cheap if you are going to use PVC pipes for the frame from which you can hang the fabric. The only thing you have to consider here is if your ceiling is sturdy enough to be able to hold the additional weight.
On the other hand, I personally chose to build a four-poster bed with a canopy myself using wood. It just conveys elegance to have it built that way.
To have it built this way, you can start to build the makings of a basic bed. You can opt for a double bed, queen, or king-size bed. Make sure you use wood for the leg part of the bed as this is where the upright of the canopy bed frame will be attached.
Then, you have to decide on the height of the frame so you can buy the appropriate measurement of the wood.
For the materials you use for the frame, I strongly suggest something that is not very heavy but is sturdy enough to support the drapes.
After having all the materials ready, you can build the frame separately. Make sure you have the correct dimensions. To build a canopy frame, you can use simple angle brackets to join the wood at the corners to make it sturdier.
After finishing building the canopy bed frame, you can then attach the uprights to the leg part of the bed. It is best to have the upright touching the floor.
You can then hang the drapes or netting in a very fashionable way.
Learning how to build a canopy bed is very easy.
But the process of building would be even simpler if you have step-by-step instructions as well as pictures to guide you in implementing the steps.
This is one advantage I have that's why I was able to finish building a canopy bed in no time at all. I was using a very nifty catalog of plans which I am also using in my other woodworking project.