5 Ways to Store Things in a Small Bathroom
by Guest on Dec 20, 2017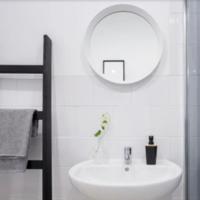 You must be wondering many times about how you will adjust so many essential things in such a small bathroom of yours. These things include razors, towels, shampoo, soap, oil, toilet paper, and whatnot. If you sit to count the things which you need in your bathroom, then the list is endless.
So, at the end of the day, you are generally thinking --how will you store so many things? From where will so much space arrive? But have you ever thought of the fact that adjusting things in a small space in a well-mannered way is nothing but an art? You just need some innovative and different ideas through which you can utilize every single corner of our bathrooms in the most efficient manner.
Stated below are a few tips that will lead a helping hand in deciding how can you keep the same things in different manners and utilize the space provided in the most optimum manner.
A Filing Cabinet Against the Wall
In a small bathroom, you should try and use even a little bit of empty space. So, why to leave even a wall empty? There are several bathroom cabinets available in the market, which you can place it against the wall; or use hand-made cabinets.  Also, if you arrange these cabinets in a well-mannered way, lots of your materials and things will be able to be occupied. The number of compartments in this wall cabinet can vary according to the size available and according and what h needs to be stored
A Freestanding Storage Ladder
It may happen that if you place a cabinet in your bathroom, then it may start appearing too small or filled up and that doesn't look pretty nice. Then there is another option for you. You can also use free-standing and folding storage ladder which has different compartments in it. Whenever you need to place things, you just have to place it one corner of your bathroom and then all the things will come over it. The best thing about using such a ladder is that you can fold it and remove it whenever you wish to.
Vintage Style Baskets
To add spices and colors to your bathroom, you can use vintage style baskets. This way it will serve a dual purpose of yours. It will also add to the décor and at the same time, it will help you by keeping your things in it. Also, you can use the corners of these baskets to hang towels. Hence, it serves so many purposes at the same time. These vintage style baskets are available in various shapes and sizes. You can choose them according to your wish and need. Also, you can place this anywhere you wish too and hence the design of your bathroom will not be boring.
Use the Place Beneath the Sink
You must have seen that there is a lot of places beneath your sink that always go wasted. Generally, no one uses that place to keep their things. But, here lies the difference. You can do something different. You can use that place to store your things, by keeping any kind of small basket or small stand or several storage bins under it. If you are totally not comfortable with this idea, then for your comfort, you can cover that place with a towel or a small curtain after keeping your things. This will bring neatness and will not let the space look too messy. This will be something innovative which you can try.   
Place A Storage Tower in Your Bathroom
Another way to keep the things in the bathroom is to get a storage tower built in your bathroom. This will help you keep a number of towels and other things also. Also, the length of this tower can be pretty high, when compared to various other shelves or ladders and hence it will occupy less width and more height. This way you can keep a lot of things in that tower, and even a large space will not be covered.  
As stated above, even if we follow some of these techniques, we will have no need of worrying about the number of things or the amount of space. What we should know is just the art of adjusting, using which we can find a solution to every single problem. There are ample ideas of awesome bathroom furniture which you can find all over the internet.
Hence, by following the above given tips we can adjust as many things in our bathroom, without any worries. Therefore, now arises no need to compromise on things or to choose some out of them. We can use all our things now according to our wish and then it will go like 'live life, king size'.