5 Signs it is Time to Resurface Your Floors
by Nick Marr on Jan 18, 2020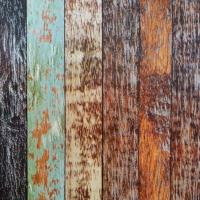 Hardwood floors are a sophisticated addition to your home and do add to the home's resale value. However, there is no secret that hardwood floors require proper care and maintenance to extend their life. How do you know when it's time to give your floors some attention? Here are five signs that it's time to resurface your floors.
Scratches
If you are noticing extensive scratches on your floor, then it might be time to resurface your floors. Scratches can be typical if you have pets and are dragging furniture over the hardwood floor. Most of these scratches have worn through the stain, so it's a cosmetic issue and can be fixed by sanding and restaining. Maybe all that is needed, but if the scratches are deeper, then the floor may need refinishing. The stain on the floors protects against damaging water.
Water Damage
Water is detrimental to your hardwood floors. If you are noticing standing water on your floor, you want to dry it quickly. Floorboards that are buckling or are warping would need to be replaced. If you are only noticing a slight water staining on your hardwood floors, then your floors might only need a sandy and restain to bring them back to life.
Discoloration
Natural light can cause considerable damage to your hardwood floors over time. Sun exposure can fade and even weaken floorboards. If you have a large area rug, the discoloration can be quite apparent under the carpet and the floorboards exposed to the sun. You can sand and restain discolored areas, but if you have floorboards that are weakened, beginning to warp or sag will more than likely need to be replaced.
Turning Gray
Hardwood floors that are turning grey are not a sign of age. Graying floorboards is a hint that the boards are damaged and need refinishing. Grey discoloration can be a costly problem if ignored since the floors will continue to darken and become damaging to the wood structure. If this problem is left too long, it can lead to completely replacing the floor. The gray discoloration happens to hardwood floors over time because the stain and protection wear off leaving the floors susceptible to water that seeps into the wood as soon as you see a hint of gray in your hardwood floors, it's time to refinish sanding and apply a new stain.
Style Change
If you've noticed wear and tear on your floors, but were holding off on resurfacing because you were looking for a change to the style of flooring – this is the perfect time to make those changes. Maybe you've had dark hardwood floors but now are interested in a lighter pine vinyl flooring this is the time to make those changes, especially if you are considering selling your home, a new floor increases the resale value f your home and is attractive to potential buyers.
How to Resurface Hardwood Floors
Hardwood floors do add value to your home, but they do require proper care and maintenance for a long life span. Resurfacing every few years helps protect the longevity of the floors and freshens them up. The five signs listed above, scratches, water damage, sun discoloration, turning gray, and time for a style change are items that you should be aware of and address immediately if you notice anything on your floors. Resurfacing hardwood floors is something you can do yourself, but in most cases, and to be on the safe side, call in a professional who can help you decide the best course of action.