How to Draw a Layout of Your Kitchen Counters
by Guest on May 12, 2012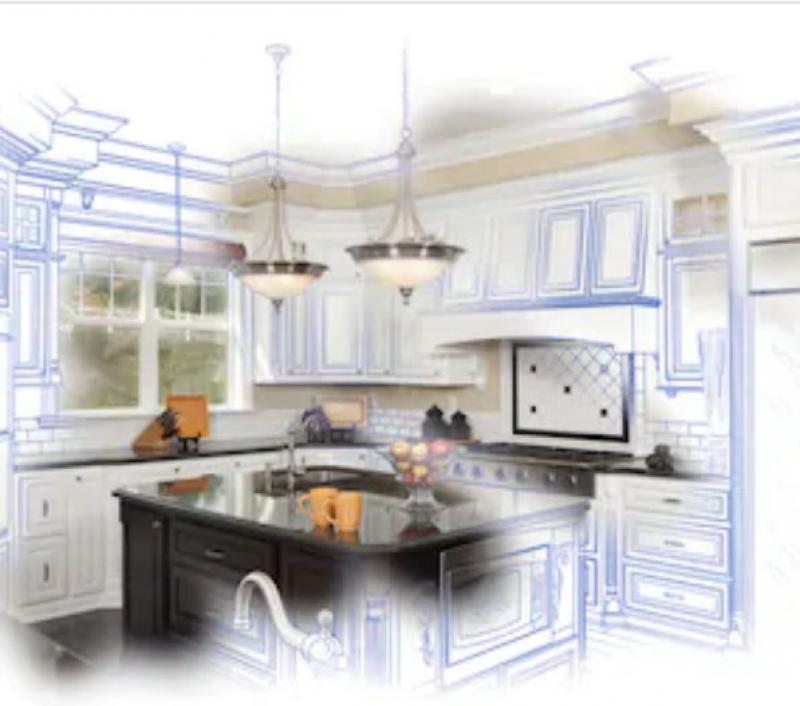 If you're looking to install granite countertops, most fabricators now ask you to provide a layout of your existing counters for a free phone or email estimate. Drawing your kitchen counters may seem complicated, but with these tips, your layout will be ready in no time.
Start by drawing your counters as simple rectangles and squares. Graphing paper works best, but a clean sheet of printer paper will be good in a pinch. The layout doesn't have to be to scale, but try to keep the right proportions. Sketch every counter, including islands, peninsulas, bar tops, and ledges. Indicate the placement of your appliances with clear words. This will help you keep track of your measurements and gives the fabricators a visual representation of your kitchen.
Mark the sink as a rounded rectangle. With laminate counters, the sink is mounted from above. Granite counters allow you to choose between top mounting and under mounting the sink. Under-mount sinks require a polished cutout that exposes the pattern and color of the granite. Because sinks are available in a multitude of sizes, shapes, and styles, most sinks include a template for the cutout. For your drawing, size and shape do not matter, but you should specify top mount or under mount.
Most kitchens have a backsplash, a section of granite that lines the wall behind the sink. Four-inch tall backsplashes are the most common, but several options are available. Some homeowners opt for full backsplashes that cover the wall from the counter to the overhead cabinets, and others elect not to have a backsplash at all. Backsplashes have a practical purpose as protecting the walls from water or covering the wall bumps.
Backsplashes are commonly installed wherever the counter meets a wall, but they shouldn't stand against appliances or wooden panels. The easiest way to indicate backsplashes on your layout is to draw a narrow rectangle along each counter. If you're not sure which backsplash option is best for your kitchen, ask your fabricator to estimate the price for multiple options.
If your kitchen includes a cooktop (as opposed to a stand-alone oven), mark its location with a labeled rectangle. Due to the size of the hole, cooktop cutouts are normally fabricated at the installation site.
Finally, mark the finished edges with an "X." Because granite is a solid surface, profiles can be carved along the exposed edges. Granite fabricators can produce an array of finished edge profiles that range in price. Mark any edges that would be exposed except edges where the counter meets an appliance.
Be sure to include information about your options: granite color, backsplash size (4", full, or none), and finished edge profile. These choices will be necessary for an accurate estimate. Also include your contact information, including your full name, address, phone, and email address.
That's it! Before you send your layout to the fabricator, you'll need to take some measurements. A tape measure works best, and it may help to have a friend around to hold the other end.
Article Credits & Appreciation