Types of Kitchen Sinks
by Guest Post on May 13, 2012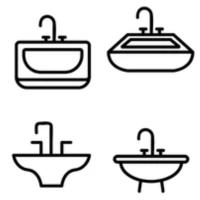 One of the most essential elements that have to be taken into consideration when remodeling or building a kitchen is the kitchen sink. A sink can become, from just a cleaning appliance, an element of design.
Stainless steel sinks -
They match a modern kitchen, but also a more traditional one. These sinks are the most popular all over the world right now. Advantages: low price, good looks, easy to clean, long-lasting, and easy to install. Disadvantages: staining may occur, can be dented if something heavy is dropped or left inside the sink, easier to scratch.
Acrylic sinks -
While they are not as popular as stainless steel sinks, these sinks offer a good alternative. Advantages: stain resistant, scratch resistant, easy to clean, many colors to choose from, easy to buff out scratches. Disadvantages: sensitive to thermal shock.
Quartz sinks -
An elegant alternative to the usual materials used in making kitchen sinks Advantages: very resistant, a large variety of colors and shapes, easy to clean. Disadvantages: high price.
Stone sinks -
Stone adds originality to any kitchen. The most used materials are granite and marble. Advantages: very good thermal resistance, durability, elegant appearance. Disadvantages: high price, easy to stain.
Cast iron sinks -
While they are the cheapest sinks, they are also the least durable sinks out there. Advantages: lowest price, easy to clean, lots of colors to choose from. Disadvantages: easily damaged, improper care may even lead to holes in the sink, and high weight which makes it harder to install.