Finding Space in Your Kitchen
by Guest Post on May 12, 2012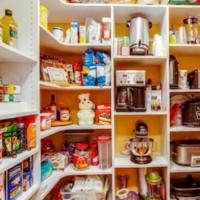 Sometimes you have space and just don't know it. Usually, the reason is much clutter. If you want to find that extra space, you might have to eliminate the clutter first.
The plan begins when you decide you need more room in your kitchen and cannot afford or want to expand, remodel or rebuild. When this occurs, stop and take a good hard look around the kitchen. Randomly pick one drawer or cupboard. Open it and look at its contents. Does this shelf, drawer, or cupboard contain what it is supposed to or are there items that should be somewhere else? If there is a food have they outstayed its expiry dates or possible use? You know what I mean – the diet items, food fads, or no-name brands you couldn't convince your family were the same as the brand names. If this is so you have a clutter problem which, once resolved, will be the answer to the extra room you need.
Take a couple of boxes and garbage bags to the decided work area. Designate a box for the item that belongs in the cupboard or drawer you are sorting, a box for it if it is to remain in the kitchen, a box if it belongs elsewhere e.g. living room, a box for recyclables, and a garbage bag. You might, if you wish, have a box for every member of the house, placing their items in that have somehow found their way to the kitchen.
An alternative approach is to categorize the clutter and organize it that way. Tackle the sorting and subsequent placement of items according to what they are. Do all the dishes or canned goods, focus on cleaning material or newspapers and periodicals.
Still another way to look at the kitchen is in terms of workstations. What type of work is done there? If you adjust the appliances, will you find more space and efficiency? Can you tuck a storage unit under the table or create a space for a shelf unit if you got rid of the other material sitting there?
Whatever method you do decide on stick to it and be ruthless. Do not keep that old flyer or broken dish you might someday glue together. Abandon that scrap of ribbon, a broken toy, and dated magazine.
The junk drawer is an obvious target of kitchen reorganization. There are also other areas, however, to consider. Take the shelving in your cupboard. You have increased space by removing unnecessary items and collating them, but have you seen whether you can adjust the shelves by increasing and decreasing the height for the increased flexibility of usage? If you adjust the height of the shelves items forced to lay on their sides can stand upright reducing clutter. Try playing with the heights until you get levels that can suit all your needs in each cupboard or cabinet.
Another possible source of extra room is the broom closet. You can always remove the broom and mop, relocating them to hang unobtrusively behind a door. Adjust or add shelves and you have more storage or space. You can always go further and replace the wooden door with a glass one, creating a china cabinet.
It just goes to show, that when you start to remove, reduce and recycle the old, all kinds of space will open up -becoming available for storage or simply everyday use.
Submitted by: John Garland taylorgifts.com