What Can Red Colours Do for the Look of Your Kitchen?
by Guest on Apr 12, 2013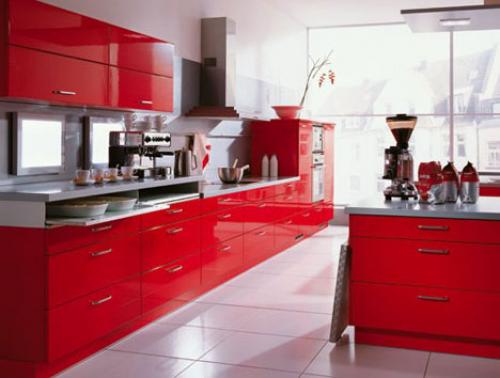 A kitchen should be the heart of the home, so why do so many of us have ones that are lacklustre and uninspiring? Whether you use yours to prepare simple meals or ambitious three-course dinners, your kitchen should be a place that you look forward to spending time in. Adding some colour can make a huge difference to both the look and feel of this important room.
A Colour with Many Meanings
Red is becoming increasingly popular with those looking to break away from traditional kitchens and embrace something more unusual. But why choose red rather than another colour? Red is generally used to signify strong passions and emotions. It is a colour that evokes a response and that we are drawn too. It is not a coincidence that many restaurants and fast-food companies use red in their branding and logos. As well as looking good, it makes us want to eat.
How to Use Red in Your Kitchen
There are many different options available to those looking to create red kitchens. Whether you're intending the replace your existing kitchen or looking to update it and give it more character, red can be incorporated in a number of different ways.
Red units give your kitchen a contemporary feel. Choose bright red for a look that is all about modernity or a darker burgundy for a more classic feel. Contrast your units with white walls and stainless-steel accessories for a minimalist look. If your kitchen is small then contrast red units with white ones to create a more spacious and light feel.
Alternatively, you could choose to use red on your kitchen tiles or walls, particularly if you are looking to give your existing space a lift. Square, mosaic, diamond and brick-shaped tiles are all available so you will be able to choose ones that complement your kitchen, whether it is modern or more traditional. Red walls can also help to create the right atmosphere. Use a dark red as a feature on a wall near your table and create a cosy, intimate atmosphere. Or paint all of the walls red to balance white units and kitchen furniture.
If you're on a budget or your units and walls are not yet in need of updating you can still embrace a red theme by accessorising your kitchen. Using items such as a red washing-up bowl, toaster, kettle, tea and coffee jars and oven gloves will give your kitchen a contemporary feel and make it look balanced, well thought out and full of character.
Incorporating red in your decor can help you to fall in love with your kitchen again. As well as providing a feeling of warmth, it can be used to create both modern and traditional spaces. If your kitchen is tired or uninspiring then use red to make it the heart of the home again.
Katie Smith writes about interior design for a range of websites and blogs. She prefers rooms with strong colours and an individual feel, which is why she is an advocate of red kitchens.