How to Prepare for Flood Season
by Kenneth Eres on Feb 10, 2020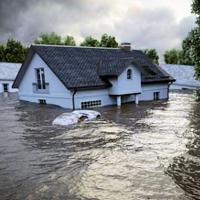 You're aware that flood season is coming. If you've ever lived through it before, you already know that it can be devastating to your property. Right now is the time to prepare for what's to come. First, you need to know how to get ready for flooding.
To keep yourself, your family, and your home or business safe, you must have an emergency plan in place. You also need to ensure you have a working sump pump. Lastly, you need to secure your home.
Know Your Emergency Plan Before Flood Season
One of the primary reasons that people are injured or even killed during flooding is because they didn't have an emergency plan in place. By the time they realized what was happening, it was too late. When you aren't organized, it's easy to get confused during a crisis. By creating an effective strategy and then practicing it, you will have a much better chance of making it out safely.
The plan should include where to go and also several different routes for getting there. You have to consider all facets like what you can do if your vehicle suffers water damage from rising waters and is no longer drivable. There is also the potential that the highway you are used to traveling is impossible if the water gets to that area. Think of how what other roads you can use to get out.
Somewhere in your home or car that's easily accessible, it's advised to have a kit. It should contain several items that you'll need if you are stuck inside or have to evacuate. Prepare a waterproof bag or box with the following items:
Flashlights
Batteries
Cash
First-aid supplies
Any required medications
If other people are living in your home, make sure to have enough supplies for everyone. Also, discuss with them where the kit is just in case you can't get to it.
Check Your Sump Pump to Prevent Water Damage
Now that you and your loved ones are prepared for disaster, it's time to start thinking about getting your residence ready. There's nothing that you can do about Mother Nature dumping inches of water on your home, but you can control how prepared you are for her.
In your basement or even a crawlspace, you should have a sump pump that can collect any water that gets into the space and discharge it back outside. When preparing for flood season, go down yourself if you can or hire a professional to inspect your equipment. If it's not working correctly, then it's not going to do you any good if flooding does occur. Take care of repairs or maintenance issues right away.
It's recommended that you install a battery backup feature on your sump pump or have an extra with the same operation. It's common for electricity to go down during significant flooding. The battery-powered unit ensures that you will still have functioning equipment.
Securing Your Home Before a Flash-Flood
While you're in the basement, look around for any holes or cracks that could let flood water in leading to water damage. Products are available at many home improvement stores that can be applied to seal weak areas. 
While you're shopping, look for water alarms as well. They will alert you with an audible if water reaches a certain level in your basement. It's another way to prevent minor issues from becoming major ones. Otherwise, you could be looking at complete 24/7 water damage restoration services.
In your sewer lines, you can install what's called backflow valves or standpipes. They keep any contaminated water from flowing back into the house during times of flooding. 
On the outside of the house, check your gutters and downspouts. Look for debris or anything else clogging them up. Water gets pushed away from the roof and foundation by flowing through these sections. If there's something like an animal nest or pile of leaves and mud blocking the way, they aren't effective. Then you're putting your home at risk for harmful water damage.
Lastly, while you're preparing the inside of your home for flood season and preventing water damage, you have to transfer most everything up. Research where base flooding would generally occur. Relocation is ideally above that level. Move items like:
Water heaters
Appliances
Furnaces
Electrical components
Switches
Sockets
Furniture
Valuables
Any other critical utilities
You could save yourself a decent amount of cash on restoration services if you take the time to prepare your home for a flood. Sometimes, no matter what you do to get ready, water damage is unavoidable.
What to Do If You Suffer Water Damages
You've done everything you can to avoid water damage during a flood, but it couldn't be helped. So now what do you do? Some think that they can take care of this kind of cleanup on their own. Experts say to make sure it's done correctly, you should hire a professional water damage restoration company. These specialists have experience in dealing with water damage issues, so they know what to look for.
If it's safe to return to your home, you can start cleaning up some of the small obstacles, but you have to have a trained eye to look at what's going on under the surface. After just 24 to 48 hours, there is a possibility for mold growth requiring mold remediation, for example. If you overlook it, you are setting yourself up for even bigger issues in the future.
How to Hire the Right Water Damage Restoration Company
You might not know where to begin when it's time to hire a water damage restoration company near you. There are several factors to consider before calling anyone. First of all, you want someone with experience. There are times when people will see the demand for water damage restoration after a major storm, and they will try to cash in on helpless homeowners. Don't fall for it. They aren't licensed and insured, and they don't have the training or knowledge you need to get the job done correctly.
Next, check to see if they are available for 24/7 water damage services. You might need someone to come in the middle of the night. Water restoration always has to start right away. Any water damage restoration contractor that has been in this line of work knows that and will be available around the clock.