How to Paint Kitchen Cabinets the Right Way
by SGV Consulting on Jan 10, 2020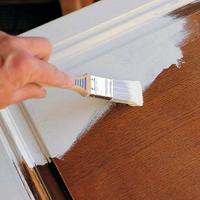 One of the most common questions homeowners have about DIY home painting projects is "How do I repaint my kitchen cabinets?".
You may be surprised to find out that repainting your kitchen cabinets is simple, yet more time-consuming than you expect.
Degreasing
Probably the most important part of the process is degreasing the cabinets. This is the first thing you should do and will determine how well the paint you select adheres to the cabinets.
Most cabinets have a thick gloss coating which is why using a degreaser to thoroughly strip this off is important. Don't skip this part or you may find all of your hard work will have been wasted. You can find it at any home improvement store.
Please make sure you follow all safety instructions while handling the degreaser. It contains strong chemicals.
Remove all Hardware, Doors, and Hinges
Next, you want to make sure to remove all of the doors, hinges, and hardware. This will make it easier for you to sand and paint the cabinets. This also allows you to assess the condition of the hardware and hinges, or update them with a different style.
Prepare and Protect the Area
You'll also need to make sure the whole area is prepared. This means removing all appliances that may interfere with painting, taping off and covering all countertops, and making sure the floor is covered. Some people prefer to also seal the room off from the rest of the home with plastic. This prevents any dust or debris from reaching other areas of the home.
Sand and Repair Cabinets
Next, make sure to sand the cabinets. At this point, you're also looking for any dents or scratches as you will need to repair/patch them before you move on to the next step. Make sure to dust the cabinets before moving on to the next step in the process or they'll have a ton of texture.
Apply Primer and Enamel
You will need to apply a coat of primer onto the cabinets. Professional painters use a sprayer for this but it's okay to do this with a paintbrush as well. It is recommended that a mixed coat of primer and finish enamel be applied to ensure durability. After it has dried, do one more round of sanding and dusting followed by a last coat of enamel.
Keep in mind that enamel paint takes a long time to dry, so make sure to plan for this. Your cabinets will likely be out of commission for at least 2 to 3 days.