Tips for the Beginning Gardener
by Guest Post on Jun 8, 2010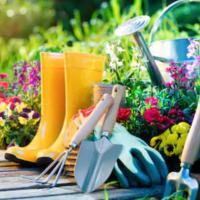 Easy to understand tips for growing organic. Topics covered include toss and grow annuals, blooming biennials, easy-to-grow perennials, garden herbs, different types of gardens, and how to identify beneficial garden pests.
Enter The Garden
Some people have natural green thumbs and seem to know just what to do to keep their plants healthy, how to transform their outdoor space into a canvas of colorful flowers and beautiful roses, or how to grow incredible vegetable and herb gardens.
This guide is designed for the beginning gardener who is not sure how to sprout a seedling or when to harvest the veggies. It includes basic information on which flowers are easy to grow and maintain, how to choose basil that thrives in your region, and tips for growing perfect tomatoes.
Primarily defined as the art of growing plants for flowers or foliage, and vegetables meant for human consumption, gardening is cousin to horticulture, the art and science of the cultivation of plants.
Gardening offers an array of benefits. Organic vegetables grown without sprays and pesticides, or tomatoes and peppers that carry no threat of salmonella poisoning are some primary health benefits.
There are therapeutic benefits that can be gained from gardening. Ranging from moderate to strenuous exercise, you will work up a nice sweat doing lifting, stretching and repetitive motions that burn calories and qualifies as your daily workout.
Gardening is productive, mentally relaxing, and relieves stress, but my personal favorite is having a legitimate reason to play in mud and water. The smell of damp, freshly cultivated soil alive with flowers, herbs and vegetables must be experienced to be appreciated.
The combination of sun, soil, and water provides an escape from conflicts or problems to the peace and tranquility of your garden. Gardening is the best way to become one with nature.
Working in your garden allows you to spend time outside every day and make your outdoor space come alive with vibrant colors. The act of spreading mulch, weeding, or planting and digging with your hands provides a spiritual kinship with life and nature.
Harvesting the flowers, herbs and vegetables that you have grown in your garden will bring a sense of satisfaction, pride and accomplishment for your dedicated efforts, and friends and neighbors will be impressed by the improvements you have made to your outdoor space.