What Is Water Damage Insurance? What are Common Claims?
by Guest Post on Jun 11, 2019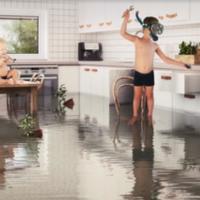 Water damage insurance is a type of protection provided in most home insurance policies against sudden and accidental water damage. Water damage insurance does not cover damage resulting from the negligence or inability of the owner to maintain the house in good condition. In addition, floods usually require a separate policy, if any.
Because water damage insurance does not cover negligence, many types of water damage to real property can and should be avoided through proper maintenance. It can be something like watching raindrops from the ceiling during a rainstorm or fixing a leaking pipe under the kitchen sink before the mold becomes spilled. The main thing to remember is that in the event your property has filled up with water, simply call a professional water removal contractor right away and pump the moisture out. Remember, failure to do so can be negligence on your part and then the insurance company will not pay for damage that you rightfully should be covered for.
Insurance claims
Water-related damages are a crucial reason for insurance claims made by a homeowner. According to the Insurance Information Institute, water was the third leading cause of claims from 2012 to 2016, with an average of $ 9,633 per claim. Water damage and frost were the second largest claim after wind and hail damage. About one out of every 50 insured households files a claim for property damage each year, caused by water damage or freezing. It is five times more likely that your home is damaged by water than to claim a theft. Water damage is seven times more common than fire.
According to a study by Disatersafety.org, there are two common types of faults in plumbing supply systems. "The first concerns frozen pipelines, which can burst because of an increase in water pressure caused by freezing water in an adjacent section of the pipeline, which accounted for 18% of all claims related to The second most common type of failure occurs when the material of the supply system fails and leads to the leakage or bursting of a pipe. one in three plumbing system in this study. "
Failures in plumbing supply systems are the leading cause of water damage claims, with 48% more losses in dollars, an average of $ 5,092 per incident after the deductible. Of these, 65% were due to a failure of the plumbing supply system material, while 18% were due to frozen pipes. Drainage system failures are another major source of claims, with $ 4,400 per incident paid in claims. Sewer backups in finished basements were also a major source of claims.
Toilet failures were the second most common cause of water damage, whether from the water supply line or the toilets back in the house, followed by water heater failures and water penetration — water in the house. Feeding lines of washing machines have been another major cause of damage.
Finally, in recent years, especially after Hurricane Sandy, water damage from external sources has also increased. Many local water damage restoration companies report that consumer awareness of how to deal with flooding has increased greatly over the last years due to these large-scale hurricanes to which many states fell victim. Sometimes these external waters can damage your home and waterproofing right away and sometimes it can take years to notice the damages caused. If you want to be covered for external weather conditions, make sure that your insurance plan covers it.
To annul water damage, old houses should be checked out by licensed plumbers every five-year interval, change aging water heaters, use stainless steel braided supply lines on washing machines, and have control for closing feed lines when the machine isn't being used. Do not operate the dishwasher or washing machine if someone is not at home.
As you can see, there are many ways a person's house and family can be at risk from water-related damages, so make sure you are covered.