Improving your Home with Repairs and Plumbing Maintenance
by Guest Post on Jan 28, 2017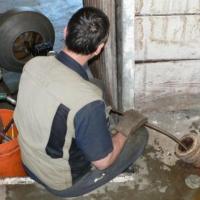 Whether you need to replace your kitchen cabinets or get some plumbing done in your bathroom, matching your results and expectations is the main objective. Planning and knowing what the process involves will pave the way for professional results.
Gather Information
Get the information you need about the repairs, plan, and identify the right tools as well as the proper materials. There are different repair projects, including major and minor ones that require a skillful approach. Learn more about the repairs by doing research online and through various publications.
There are various information sources that you can use to broaden your knowledge about home repair. Useful information and images can make it easier for you to understand how to handle different repairs and maintenance processes around your home.
Materials
Before you start the job, get the materials you require to avoid back and forth trips and make arrangements for timely deliveries. Your plan will determine the materials you need. Check the measurements of items such as doors and windows to ensure that they are the right size before you get them.
Be Organized
It is always a good idea to list the things you do and work in an orderly manner. This will enable you to keep up with the different steps of the process to track your progress along the way. Divide larger jobs into smaller tasks to prevent you from feeling overwhelmed. Make an effort to accomplish a section of the job each day to stay motivated.
With the information you need and resourceful suppliers, you will be able to overcome the challenges that you come across during repairs or improvement projects. Be prepared with some extra funding in case unexpected expenses arise during the project.
Professional Plumbing
Professional plumbers check bathroom fixtures such as showers, tubs, and sinks for leaks, cracks, drainage problems, mineral build-ups, and corrosion. Loose toilet fittings can result in a lot of water being wasted. During plumbing maintenance, toilets are checked for loose fittings, cracks, and other issues, if loose parts are found, the required adjustments are made.
Functional problems and the buildup of sediment can affect water heaters. Your plumber will deal with such problems during regular maintenance and inspect the water thoroughly before making any adjustments.
The entire plumbing system is essential but it will not be able to function without the sewer line and water line. You need a licensed plumber who will inspect the main lines to check for performance, excess sludge, and signs of corrosion.
Benefits
Customers gain several benefits from plumbing maintenance, including being able to keep up with repairs. Plumbing maintenance also keeps the system working for longer. Proper maintenance should ideally be handled exclusively by experts who understand the intricacies of plumbing systems.
After a plumbing system is installed in your home, it should be checked a considerable number of times to ensure that the system was installed properly and final adjustments are addressed. The sustainability of a plumbing system will depend on scheduled and adequate maintenance.