Zen Decorating Theme Bathroom
by Guest Post on Feb 3, 2010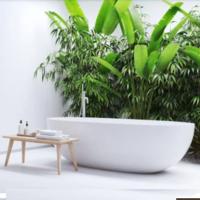 If you desire the feel of a meditation garden in your bathroom, then find a landscaping architect for a theme bathroom that is designed specifically for you! The accessories, furniture, and colors that merge with the theme, to give your bathroom a serene appeal, are the basics you need to work on.
For a perfect Zen décor bathroom, soft colors and neutral tones are the most effective color scheme. To match up the colors perfectly, take along the shade cards of the colors you want for your bathroom accessories.
The time you take out for selecting proper furniture and stylized accessories can only add to your Zen decorating theme. Though it is a good idea to stick to a minimalist style with stained wood furniture, you can make other luxurious additions to bathroom fixtures – artistically-designed toiletry holders with hamper, towel racks, and accents.
Even bath mats in neutral, earthy tones can make a unique style statement in your Zen decor bathroom, by giving the decorating scheme an interesting appeal. Organic woven mats perfectly fit the bill for a peaceful style!
You can enhance the look of the bathroom with shoji screens and plants. Bamboo blinds for the bathroom add the element of charm to the entire area. So far as the lighting is concerned, the Zen theme requires recessed lighting, simple yet subtle.
You can further augment your Zen-style design with a water fountain on a low table or a bamboo plant in a simple pot. Add to the décor a flower bowl with flowers like lotus, lamps, simplistic pottery items, and even silk pillows; and you have an enviable Zen decorating theme bathroom on your hands!