New Roofing Recommendations for Your Roof and Roofers
by Darren Smith on Sep 20, 2019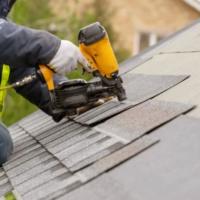 As we move further into technology improving our lives, we also see technology improving home remodeling and renovations. With regards to roofing, there has been some really good technology that has been created to help keep the homeowner protected when it comes to putting on a new roof.
The typical way roofers will put on a roof is that they will add an ice and water shield on top of your roof. Following this, they will add the rubberized asphalt shingles on top of it. The downside of this combination is that it could trap moisture when water gets underneath it. This moisture can lead to your roof rotting or creating other harmful side effects to your home.
Recently, new technology was created to help with this. It is called Tescon Naidek. This type of material is meant to be placed on top of your roof. It has a double-sided tape making it easier to keep moisture from getting to places. This particular technology will also self-seal nail or screw penetration which sets it up to keep from allowing water to get through this way as well.
The other area where technology is beginning to change the roofing industry is with the application of products on the roof. It used to be that adding shingles to your roof was the only option for roofing your home. Now, homeowners have a variety of options to choose from. With technology on the rise, homeowners can choose from a variety of packages of new roofs that best fit their budget and their desire to be eco-friendly. Some of the new roofing options that are growing in popularity are metal roofs, solar roofs, and cool roofs. Metal roofs although having been around for some time are on the rise with homeowners beginning to look at the many different options that they have with metal roofing. Homeowners tend to like metal roofs based on the longevity of not needing to replace shingles within a 10-20 year period. Solar roofs are focused on providing solar panels to create energy for the home while protecting the home from the elements. The reason many homeowners are moving in this direction is that they are seeking to be eco-friendly as well as provide another means of creating energy for their homes. Cool roofs are also on the rise. They deliver high solar reflectance as well as high thermal emittance. Homeowners are enjoying cool roofs because they are reflecting heat and thus saving money on the cost of cooling their homes.
As you can see, new technologies are affecting all aspects of life. As we continue to grow in ingenuity, there will be lots of areas that are affected by technology. The home industry is one of the areas that has been helped by the rise of new technologies. Particularly, as you have seen in this article, the roofing industry is thriving on a lot of the new developments that are taking place in modern technology. For more information, click here for roofing tips.