How Cleaning Your Gutters Can Save You Money!
by Dion Cobbin on Jun 30, 2022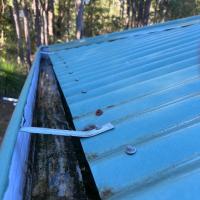 There are many reasons why gutter cleaning is important, firstly for preventative maintenance and the overall safety of your building or home. We are going to talk about three risks that can be reduced by having your gutters clean.
1. Corrosion
Corrosion in a gutter system occurs when water is trapped under debris that has not been removed. The debris will begin to rot. Creating a chemical reaction that starts to break down the metal guttering. The breaking down of your gutter system can lead to water damage in and around your home or building. The replacement of your gutter system will have to take place to prevent water damage costing extra money that could be resolved by preventative maintenance. Along with the listed above pest infestation can become a problem, rodents and insects such as mosquitos will use debris and the build-up of water for breeding grounds and to nest in. This will then lead to the hiring of a pest control company. 
2. Fire Damage
Reducing the fire risk of any home or building should be on every home or business owner's mind. Fires can lead to the destruction of buildings and homes in a matter of minutes along with the building, memories can also be destroyed. Not to mention the injuries a fire can have on a human. Having your gutters cleaned can reduce the risk of an ember attack igniting the debris left in your gutters. If your gutters are cleaned the embers will land on the metal and have a lesser chance of igniting. 
3. Water Damage
Water damage is generally caused by a storm or large amounts of water flowing over the gutters. This is generally due to the downpipes being blocked by leaves, sticks, and dirt build-up from previous years of not being cleaned. Water damages can be costly as patios, furniture and ceilings may need to be replaced as well as flooding inside and outside of your home. 
We recommend having your gutters cleaned by a gutter cleaning professional, it will take them half the time with the correct tooling such as a gutter vacuum and cherry picker. It also eliminates the risk of you falling off the roof or ladder. The price difference between a gutter cleaner and the replacement of gutters or water damage is very different so don't delay having them cleaned.