Find Your Perfect Roof In 4 Easy Steps
by Aaron Mitchell on Jul 18, 2018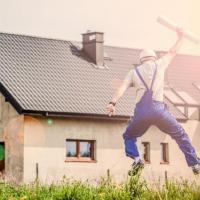 Whether you're simply renovating your home or starting from scratch and building it, a roof is an important aspect that you should consider. After all, your roof will make sure the inside of your home is protected from a variety of things, such as inclement weather, as well as capture your home's aesthetic. That's why it's important for your roof to be durable, resilient, and trendy. Finding your perfect roof can be difficult, which is why we've created a list of four easy steps you can take to achieve the roof of your dreams. 
1. Consider Budget
Let's face it: budget plays a key role in how you renovate or build your home. But, it doesn't have to be the ultimate factor in deciding what your home looks like. That's why roofs come in a variety of styles, sizes, and materials. In fact, you can even find cheaper materials that look like more expensive materials. In other words, you can install a roof that has quality and looks expensive but doesn't break the bank.
2. Focus on Durability
Speaking of materials, the material you choose for your roof should reflect how durable you want your roof to be. Of course, durability fluctuates depending on the area you live. For example, if you live in an area that experiences minimal inclement weather, then you could choose a simpler material like wood. On the other hand, if your area experiences inclement weather regularly, then you should make sure your roof is extremely durable. That's why a material like asphalt or metal would be a better option for your roof.
3. Choose a Style
Once you figure out your budget and what material you want to use, start thinking about what kind of roof style you want. Since your roof plays such a key role in the outside of your home, you should make the roof design integrate with your home's aesthetic. There are a variety of roof styles, such as; skilion, arched, and flat. 
4. Find a Contractor
Whether you have an exact idea of the kind of roof you want, or you still need a little bit more guidance, it's important to research roofing contractors in your area. After all, building a durable and resilient roof can be difficult and overwhelming. That's why you should leave it to a roofing contractor to do all the heavy lifting. After all, a contractor has the necessary experience and skills it takes to effectively build a safe and secure roof.