The Alternative to a Re-Roofs Roof Renovation
by Guest Post on Jan 29, 2013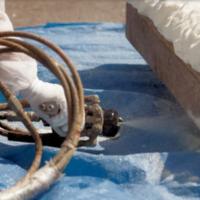 If you need to replace your roof to stop it from deteriorating or if it's been damaged by the weather it can be a costly, time-consuming, and very disruptive project. So, what is the alternative…?
Polyurethane spray foam systems are durable, robust and provide a breathable membrane that can be applied directly to the underside of roof tiles and slates to re-secure them. Not only can it restore the integrity of your roof but it also provides a high level of thermal insulation and all at a fraction of the cost of a new roof.
Polyurethane systems can remedy all manner of problems, including:
Damp or condensation problems
The spray foam sets and expands within 15 seconds of application and cures completely within 24 hours. It creates a weatherproof barrier against rain and condensation. It would help to keep your loft dry and warm throughout the winter, without the cost and disruption of having a new roof installed.
Dust, draughts and aging roofs
As the spray foam seals gaps and creates a barrier against the weather it also provides a remedy for draughts and heat loss. It prevents warm air from escaping and keeps out cold air, rain, and wind-blown dust, helping to lower your energy costs and improve your carbon footprint.
Creates a dry, useable, insulated loft space
If you're planning a roof or loft conversion, an appropriate thickness of spray foam insulation can provide the air-tight barrier you need to create a dry and habitable space. Your loft would stay warm and cozy in winter and become cooler in summer.
Quickly and easily applied from inside your roof
Not only does spray foam provide all these structural benefits at a fraction of the cost of a new roof, but it would be installed internally to the underside of your roof tiles or felt, without the added hassle and disruption of a major roof installation!
Re-Roofing with Added Spray Foam
If you decide that you need to have a complete re-roof, whether for aesthetic reasons or if you think your existing roofing structure is damaged or neglected beyond repair, you should still consider the extensive benefits of polyurethane spray foam. A new roof can be very costly, so it makes sense to protect your investment as much as possible by combining your re-roofing project with the application of spray foam.
Spray foam can be applied as soon as your new roof is in place to give it an extended life as well as heightened, more effective insulation and a lower carbon footprint for your home. Not to mention that it will transform your loft space into a usable attic room if you are considering a loft conversion and reduce your energy bills as it helps to keep the heat in!