Safety Railings: Find Out Where You Need Them the Most
by Guest Post on Nov 23, 2019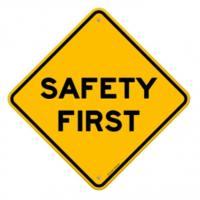 When you are on the edge of a roof or a scaffold, you know that you would need guardrails. You have the same intuitive understanding when you work at a height of 15 feet or so. But there can be situations where you may fail in your judgment. You may not even realize that you might need a safety railing for your protection. There can be various reasons behind it, but let's not get into them right now. In this article, the focus is on those places where you might not think you need a fall protection system while that should be your priority.
Roof hatches
You may not give importance to this place because you feel that the hatch remains closed when not in use. However, the truth is that roof hatches many times stay open so that workers can climb down the building after doing the work on the roof. If you don't pay attention to where you are going or don't get a clear view of the place, you can easily fall into the hatch. The incident can occur even if you miss a step. However, you can prevent this disaster with safety rails. You can use the rail to walk up and down the hatch, avoiding the risk of imbalance or security.
Roof elevations
As you may have noticed, not all the roofs have a single elevation. Some roofs can have roof drops. So, if the height of the drop is more than six inches for a construction job or four inches for maintenance, then you need to have safety rails in place. The height of the parapets on the roof can also be critical to note. If it is less than 39 inches, you have to have fall protection. Otherwise, you will be taking the risk of falling. It means you need guardrails not just for roof edges but in these types of scenarios too.
Wall-mount ladders
You may need a ladder to climb up or down the roof or from one roof elevation to another. The wall-mounted ladders usually get installed close to the edge of the roof. Hence, when you use these ladders, you are technically at risk of a fall. It doesn't matter whether you are waiting for others to get down or walking towards it; the ladder involves certain fall risks. You need rails on either side of the ladder for support and to avoid a hazard.
Other than these, you may have to be careful about parapets because if they are less than 39 inches in height, they can pose a fall risk. Anyway, these are not safety equipment. However, sometimes, the height can deceive you into thinking that they are safe for your needs. So, it's better to not take any chances with these spots and install safety rails for your workers and employees wherever danger is lurking. You can order these products from a reputable company. Just make sure you see the order FAQ once before committing a purchase to avoid any disappointments or mismatch of expectations.