These Bathroom Trends Will Become More Popular in 2021
by Jane Brown on Oct 28, 2016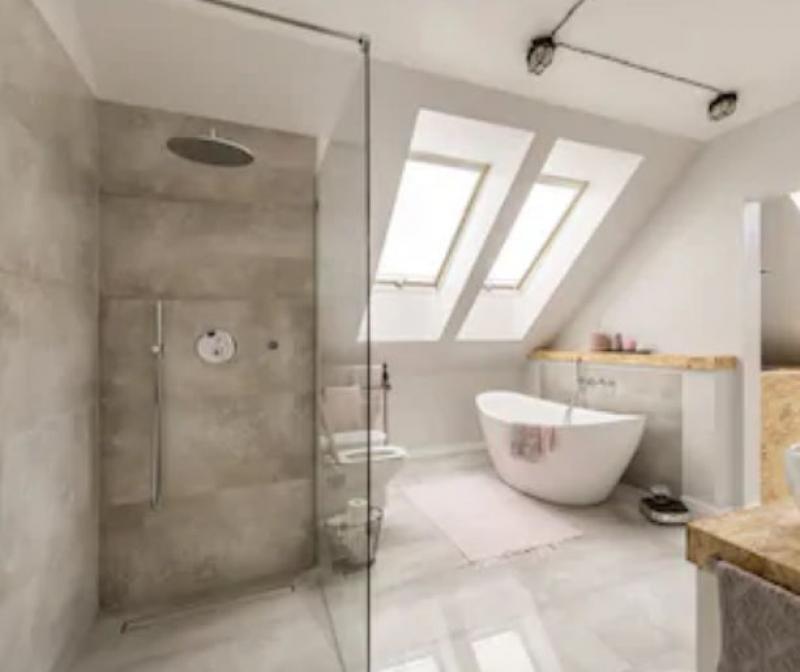 A recent Houzz survey found that on average people spend 30-60 minutes a day in the bathroom. That's the equivalent of 8-15 days a year – the same time spent taking a vacation. Imagine how much longer you'd stay in your bathroom if it was renovated and had all of the amenities you've always dreamt of.
A bathroom remodel can add significant value to your home and makes everyday life more luxurious. If you're in the market to remodel, check out these hot bathroom trends that are expected to become even more popular in the coming years.
Freestanding Tubs
Many homeowners have decided to forgo bathtub/shower combos instead of installing an oversized shower. But homeowners that have space for a separate tub are opting for a freestanding one. Clawfoot tubs have long been a popular and beautiful option, but today there are sleek freestanding tubs that fit in nicely with modern décor.
Before buying a freestanding tub you'll need to make sure it can fit in the space and also figure out the plumbing. Unlike standard built-in tubs, a freestanding tub has space all around, which leaves the plumbing exposed.
Pebble Flooring Around the Tub
If you're replacing the tub it's a great opportunity to add pebble flooring around it. This is a particularly popular trend with freestanding tubs that expose the floor underneath. The pebble flooring feels great underfoot and can help to define the space, but keep it in the same color palette as the other flooring so the difference isn't too stark.
Tile Baseboards
One of the fastest-growing bathroom trends, as far as the flooring goes, is tile baseboards. Instead of stopping at the wall and using traditional wooden baseboards, more owners are choosing to trim down the tile used on the floor. It creates a seamless look, provides added durability and makes cleaning a snap.
Wood Tiles on the Walls
Some homeowners are going even further up the walls with tile. One of the hippest shower trends is tiling from floor to ceiling with wood tiles. It's low maintenance, durable and looks authentic. The high-definition design of today's ceramic and porcelain tile is spot on and the plank shape perfectly mimics real wood.
Multi-Functional Showerheads
Not so long ago showerheads only sprayed out water, but now they are capable of so much more. Two trends that are catching on fast are showerheads with LED colored lighting and showerheads with a speaker built-in. And both types can be controlled with apps. Showerhead speakers can remotely connect with your smartphone to play music from your playlist, Spotify or Pandora.
Multi-Jet Showers
You're also more likely to see multiple showerheads in updated bathrooms. A popular system is to have a large rain showerhead directly overhead and a few jetted showerheads at the back level coming out of the wall. Another layout that's seen in many renovated homes is mounting a showerhead on opposite ends of the shower so you can get sprayed from every angle.
Eco-Friendly Features and Flooring
The eco-friendly trend is still going strong. From the flooring to the lighting, bathrooms are greener and more efficient than ever. Dual flush toilets, low-flow showerheads, and faucet aerators all save water and won't affect the design.
But eco-friendly features can also be high-design. Flooring is a great example. Recycled glass, cork, and pebbles are three in-demand options that are environmentally friendly. Concrete is another green flooring option that works well in the bathroom and can be stained with non-toxic finishes.
Floating Cabinets
Cabinets are a statement piece in the bathroom. Over the years there have been a lot of different designs, and right now floating cabinets are en vogue. You may lose a little bit of storage space, but one huge benefit of floating cabinets is that the openness makes space feel larger.
Continuity, Straight Lines and Clean Design
When it comes to the overall look of modern day bathrooms, in the coming years interior designers expect to see continuity that creates flow, straight lines, and clean design. Things will be streamlined, but the use of beautiful, high-end materials will keep the design luxurious.
Clay Faucets and Sinks
Any ceramics artist will tell you clay is a versatile, attractive material that's underutilized today. But that may be changing. Clay was used to creating some of the oldest water containing vessels known to man. Designers are rediscovering the natural material in a big way, and their primary focus is using it in the bathroom. Clay is being used to create unique waterfall faucets and unconventional sinks with serious wow-factor.
Organic and Natural Materials
The examples above highlight another larger trend – the use of natural and organic materials. Homeowners are bypassing synthetic and manmade materials for materials found out in nature. Tubs are being made with real wood, concrete is being used on countertops and cork is providing a comfortable flooring option. These materials are being blended to create bathrooms that feel cozy but still look elegant.