Making Sure Your Home is Safe Before a Storm
by Guest Post on Jun 1, 2019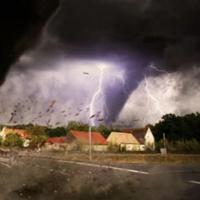 It seems that no matter where you live, there's a chance your home could be hit by a bad storm. Maybe it's from a tornado in the Midwest, a hurricane in the South, or a snowstorm in the North. Whatever sort of danger your home is prone to, you'll want to make sure you're ready for it when it arrives.
While you can't prevent every bad thing from happening to your home, there are some things you can do to ensure you and your family remain as safe as possible during any type of storm.
Here are a few tips to get you started.
Check the Outside of Your Home
The first thing you'll want to do is start outside. You need to examine the outside of your home to see if there is anything that can cause damage if a bad storm comes through. For example, stand near your house and look up. Are there tree limbs hanging over your home? Do they look strong, or are they starting to dangle? Tree limbs are sometimes easily torn off during a storm, and they could land directly on your home. Now is the time to have them trimmed back. This has the added benefit of making your tree lighting, which will make it less likely to tip over as well.
Besides that, check the things you have around your home, such as decorations or furniture. If a heavy storm is coming, make sure to put these things away or have them fastened down. You don't want your favorite lawn chair to come flying through your living room window in a heavy gust of wind.
Double Check Your Roof
Hurricanes and storms can seriously damage your roof. Roof wear and tear is natural, especially in homes with a bit of history. However, many people forget about the roof above their heads when preparing for a storm. "A weak roof can damage the structural integrity of the home," says Blue Bonnet, a roofing company in Austin. If you're worried about the cost of roof repairs or a new roof, consider roofing company financing. If your ceilings aren't level, or if you have attic leaks or creaking sounds, you may need roofing assistance.
Gather Supplies
Now that the outside of your home is more secure, you can start worrying about what goes on inside. One of the best things you can do is ensure you are stocked up on essential supplies. This means food, water, batteries, candles, first aid supplies, and anything else you can think of that will help you during an emergency.
If you have a backup generator for your home, make sure it's in working condition, and that you have plenty of gas for it. You don't want to find out that your generator isn't going to work in the middle of a bad storm.
Board Up Windows and Doors
As a particularly bad storm is approaching, you may want to consider boarding up your windows and doors. Doing so will add extra protection to the weakest points of your home. To secure your windows, either get yourself some wood from a local hardware store or use some shudders. If you know a bad storm is coming, be sure to get your supplies early, as a lot of other homeowners will have the same idea. To learn how to properly board up your windows and doors, you can check out this guide.
Use a Storm Shelter
Finally, in some areas of the country, boarding up your home isn't enough to stay safe. You need something like a tornado shelter instead. If your home doesn't have one of these, you'll want to look into getting one. For those of you that have one already, it's important that you check on it regularly. Make sure it is secure, and that there are plenty of supplies down there for you and your family. You never know when you might need it or how long you'll be down there.
Know When to Evacuate
In some cases, it's best to leave your home entirely and get out of the area. When you hear a bad storm is coming, check the local news to see if you need to evacuate. If an evacuation is ordered, do everything you can to get out as soon as possible. We know it's hard to leave all of your things behind, and many are tempted to try to ride out the storm, but evacuations are not called lightly. Pay attention when they are, and even if you're tempted to stay, get out if possible.
Don't Take Storm Prep Lightly
Bad storms can spring upon us at any time and in any place. Even areas that haven't had a bad storm in a long time could still get one. That's why you must take storm preparation seriously, as you never know when you're going to need it. Hopefully, this guide was able to give you some advice on how you can better prepare your home, and the next time a storm rolls through, both you and your family will be able to remain safe.