The Most Effective Ways to Secure Your Home
by Boris Dzhingarov on Dec 13, 2015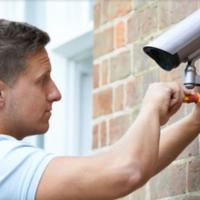 Securing your home should be one of your main priorities. Burglars keep finding new ways to enter homes, so it's important to add as many security features inside and outside your home to reduce the possibility of a break-in. Security products keep getting better and more advanced. There are plenty of security-related products to choose from and ways to prevent a burglary. These are the most effective ways to secure your home.
Change the Locks
If you're moving into a new home that had previous owners or tenants, it's safer to change the locks, rekey and replace them. This prevents people who previously lived in your home from getting into your home in the future.
Install a CCTV System
Camera technology continues to improve with many affordable high-quality CCTV systems available. When a burglar sees a camera or a CCTV sign outside a home they are less likely to risk carrying out a robbery. Cameras can be installed all around the outside of your home. This prevents criminals from attempting to break in through back doors or windows.
Many CCTV systems are now integrated with mobile technology. This makes it possible to view live CCTV footage remotely if you're not at home. You can react immediately to any suspicious behavior. All of this footage is recorded too so that it can be used as evidence if a robbery occurs.
Install Alarms
House alarms also keep improving. When you're purchasing this type of security system make sure it includes detectors for each door and window in your home. Burglars will be less likely to target your home if there's a high-quality alarm system installed. A range of motion sensor alarms are also available to detect any suspicious activity inside and outside your home.
Install an Outdoor Lighting System
Many burglaries take place in the evening or at night. If there's nobody home and all the lights are turned off, there's a greater likelihood a criminal will target your home. However, when the outside of a house is lit up at night, a burglar will think twice about trying to enter your home. A range of exterior lighting systems are available that are activated through timers or motion sensors. Other lighting systems automatically light up as the evening gets darker.
Don't Attract Burglars
Prevention is often better than cure. There are many ways to prevent burglars from taking an interest in your home. If a burglar sees expensive items inside and outside your home, it makes it more likely they will attempt a robbery. Keep all valuable items out of sight.
A burglary is not a pleasant experience for any homeowner. As well as the financial loss you suffer, it's also extremely unsettling for you and your family members. However, there are many ways to avoid this serious problem and keep your home secure at all times. Some of the most effective ways to secure your home are listed above and will prevent this serious problem from occurring in your home.