What Is a Laser Cutter Used for in Home Improvement Project
by Sally Smith on Nov 27, 2019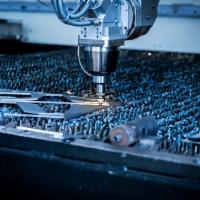 When it comes to valuable home improvement tools, a laser cutter may not come to everyone's mind. Many may assume that laser cutting services are reserved for the likes of car manufacturers and NASA, but that is far from the truth. Laser cutting has become a very common practice for renovation, as well as hobbyist, projects in recent years. The possibilities afforded by laser cutting are practically endless, which begs the question: what is a laser cutter used for? 
Whether you're thinking about enlisting the help of a laser cutting service or even purchasing a laser cutting machine yourself, these are just some of the many ways that laser cutting can be used for your next home improvement project. 
Wood Cutting 
Let's face it. Cutting wood is an absolute pain to do on your own. Not only can sawing be a major strain that takes it out of you over time, but if your measurements are wrong (we're only human), it can ruin your whole project. Plus, every mistake made in woodcutting is another trip to Home Depot as well as another hole in your wallet. So, instead of wasting wood unnecessarily, consider laser cutting. It provides the perfect balance of ease, precision, and (in the long run) money to make sure your project goes according to plan. 
Granite Cutting 
Granite has become one of the most desired features of modern households. There's nothing quite like the sleekness, elegance, and sturdiness of a granite counter, sink, or table. However, anyone who has ever felt concrete in person knows that it's very dense and very strong. Not the easiest thing to cut by any means. A laser cutting machine could prove especially useful for the job. Thankfully, many cutting laser services provide this service so that you can achieve that elegant look for your kitchen or bathroom. 
Metal Cutting 
Cutting wood may be strenuous, but it barely compares to the difficulty involved in cutting through metal. To make matters worse, the added difficulty that comes from metal cutting may cause even more mistakes to be made in terms of precision. Luckily, a laser cutting machine is capable of cutting, etching, or marking many varieties of metal, including copper, steel, and aluminum and you can find many cutting laser services that provide this service. This makes a laser cutter a fantastic option when working on pipes, shutters, or centerpieces. 
Glass Cutting 
Unlike every other material mentioned here, glass is very easy to cut. Too easy. The problem with glass-cutting isn't the strength of the material. It's the challenge of doing so in a way that doesn't cause minor or major injury. Suddenly, the fact that you need a new window or screen door is the least of your worries. After all, when home repair goes wrong, it should land you in the doghouse; not the hospital. So, avoid the pain and suffering from the help of laser cutting services. It's the easiest and quickest way to get the job done right. 
Concrete Cutting 
Finally, we get to the greatest handyman nightmare of them all: cutting concrete. Concrete is a staple of modern house design for a reason, and that reason is that it is hard to penetrate. Especially if it's the dense concrete found on floors and basement walls, the only way to get through it is with a power saw or a sledgehammer, or a laser cutter. Compared to the advanced difficulty of cutting concrete by other means, calling a laser cutting service may be the easiest one by far.