Do Replacement Windows Really Save You Money
by Luis Rios on Dec 4, 2019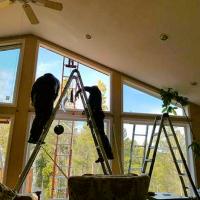 High-quality, energy-efficient windows save you money and keep your house warm. Homeowners, where it often snows from October to May, know the importance of maintaining their home and windows especially, to keep winter weather outside where it belongs! However, no matter the weather, you might still wonder if replacement windows save you money.
Replacement windows are an excellent investment in your home. Studies show that installing new windows in your home might mean getting back 70% to 80% of your costs in terms of increased property values. According to the Department of Energy, you can save up to 20% or more on your home's heating with new energy-efficient windows.
How Do Replacement Windows  Help Your Home?
Quality windows keep your house warm in the winter and cool in the summer. They also provide soundproofing and allow lots of sunlight into your home. Besides these benefits for your home's interior, attractive windows add curb appeal to your home. If you plan to sell your house anytime down the road, you may want to invest in high-quality replacement windows now, to update the look of your home. New homebuyers are picky; they're typically looking for a house that's in good condition but which also looks good on the outside. In turn, high-quality, stylish windows may make a difference in whether or not you sell the house!
High-quality windows also help insulate your home and potentially reduce wear and tear on your appliances while lowering your utility costs. If the main living areas in your house face north, for example, they won't get much sunlight so your furnace must work overtime to keep those spaces warm through the winter months. Replacing your home's windows will ensure your house is the coziest, warmest it can be no matter the outside weather.
What Are Some Advantages Of Energy Saving Windows? 
The U.S. Department of Energy notes that energy loss through a home's windows accounts for nearly 25% of your annual heating and cooling costs for the average family. Energy-saving windows are insulated to preserve that heating and cooling, lowering your utility bills. Note some other advantages of energy-saving windows:
Less condensation. Energy-saving windows prevent frost from collecting on window glass. Frosted windows make the room colder and cause your furnace to work harder to heat the space, and can result in water damage to the wood framing around the windows.
Lower HVAC bills. If your house has fewer drafts and condensation the cost to heat and cool interior spaces will be lowered. This also saves your HVAC system from cycling on and off too often.
More comfort! A home with energy-efficient windows is free from cold drafts and outside noise, making interior spaces more comfortable overall.
Extra light and better views. Old windows often included tinting to reduce sunlight and keep a space from becoming hot and stuffy, which also means dark and dreary interior rooms. Today's energy-efficient windows don't need tinting, as they reduce heat without diminishing the sunlight entering your house.
Protects inside furnishings. Sunlight can damage furniture, carpet, and wood. Energy-efficient windows reduce harmful ultraviolet rays, preserving your furnishings.
What is Meant by an Energy Star Rating?
An Energy Star rating is given to windows that meet a certain standard of specifications set by the Environmental Protection Agency and the Department of Energy. These windows are tested and certified by the National Fenestration Rating Council as energy-efficient once they meet these standards:
Two or more panes of glass
Special spacers between the glass panes
Argon gas in between the two panes, to insulate the space
Quality framing materials
Coatings that keep heat in the cold months and cool inside during hot months
Although energy-efficient windows vary in type and brand, they must have an Energy Star rating to be marketed as energy-saving windows. These windows average around $150 for a single hung vinyl window and special energy-saving glass. The installation runs around $38 per hour.
Casement windows are the most energy-efficient type of windows that open. Picture windows are the most efficient windows that don't open.
What Are The Different Window Styles?
The most popular replacement windows are double-hung windows. Other popular windows include casement, awning, sliding, picture, and bay or bow windows.
Double-hung windows are the least expensive and are popular because they're versatile and work in any room in your house. Double-hung windows give you a good view of the outside, open easily, and are secure. Many homeowners like the double-hung windows because they're easy to clean, as the top and bottom both lift up.
Vertical hung windows are also popular because they have a title-in style of glass. These slide up and down to make it easy for a homeowner to clean the exterior and the inside of the window. This window's easy cleaning style eliminates the need to hire a window cleaner to do your house's windows. These windows are a great selling point to buyers.
What Is Good Framing For Replacement Windows?
If you're replacing your windows, you will need to choose the framing. Note some framing choices for replacement windows:
Wood has been used for window frames for decades. Many people choose wood for its aesthetic look and feel. Wood is a strong, warm material, but it must be painted or stained to stay in good condition. Wood also doesn't weather as well so it might need replacing more often. Choose good quality wood if you like this material, keeping in mind its installation and repair costs.
Fiberglass has grown in popularity over the years. This material stands up to the weather and looks good inside and out. Homeowners can also choose different colors and styles of fiberglass. Another plus of fiberglass is that it needs little upkeep, and it insulates your home. One negative about fiberglass is that it's expensive to install.
Aluminum window frames may not be the best choice for a cold weather climate like Denver. Aluminum is strong and durable but doesn't insulate well. This framing choice is best in warmer climates, where it won't conduct cold and carry it inside the home.
Vinyl framing is the most popular framing used today. It's durable and comes in different colors. The biggest advantage of vinyl is that it's inexpensive.
Cold winter winds and snow may blow, but when you upgrade to energy-efficient windows, your house will be toasty warm. No matter where you live, good quality windows are a plus for your home's inside and outside. So, replacement windows are the best way to save money and stay cozy all winter long!