What Causes Home Windows to Fog and How to Deal with It?
by Apex Window Werks on Feb 1, 2017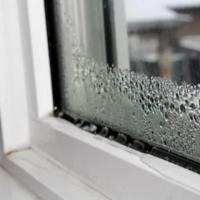 If you have foggy home windows then you have condensation problems. Fogging windows is one of those problems that you can successfully deal with, but only if you know how. This article is meant to help you find the best solution to your foggy situation.
How is fog formed and why
Simply put, foggy windows happen when there are significant temperature differences inside your home versus outside your home. These temperature differences are most commonly associated with weather conditions such as rain, snow, very warm weather, and cold winds.
If the temperature within your house is chilly to cool while the temperature outside your home is very warm and humid, the fog will start to form on the external side of your windows.
That being said chances are if you are seeing fog form on the interior side of your windows then the temperature outside is warmer and more humid than the temperature within your house.
Foggy windows could also be possibly the result of damaged window seals which allows moisture-filled air to seep through causing the fog to form on the windows.
Air-conditioning systems that set either very cool or very warm compared to the weather outside can also cause fog to form on your home windows.
So now that we know what causes foggy windows, how do we effectively deal with the problem?
Truth be told there is no sure way to completely prevent fog from ever forming on your windows. With age all insulating glass products eventually become foggy but fog can be delayed and minimized.
Buying the right glass for your windows depending on the climate in your region is a great way to possibly prevent foggy windows. Speak to your window glass manufacturer or home renovations experts about the right insulating glass suited for your home before purchasing.
You can also minimize fog by adjusting your home temperature system. The temperature inside must not be that different from the temperature on the outside. This can be very tricky if you live in a very hot and humid area and want to create a cool environment within your home.
Another possible solution is to repair broken window panes and seals. This will prevent moisture-filled air from seeping through and minimize your windows from fogging.
Also, use reliable sealants from reliable sources. They might be a bit pricier but they will last longer than ones bought for cheap from unreliable sources.
If you want to get a bit fancy and don't mind paying a bit more for your windows then you can opt to get your windows triple glazed. Although this will still not completely stop your windows from fogging, it will help to significantly reduce the problem.
Now that you have a better understanding of what causes that blurry vision looking through your home windows you are now able to choose a solution that best suits your home's needs.