Electric Range Purchasing Guide
by Guest on Mar 29, 2011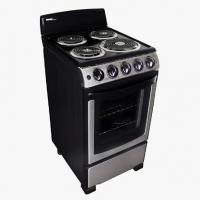 Many different types of electric ranges are available for purchase in today's commercial market. Many private homes and commercial kitchens across the United States utilize an electric range for their basic cooking needs. Determining which type of electric range would best suit your needs can seem like a daunting task, but it doesn't have to be. Once you have decided to purchase an electric range, there are three basic types. The first type of electric range is called a freestanding range. Freestanding ranges can be some of the most versatile types of an electric range because they come equipped with finished panels on both sides and can be placed nearly anywhere in a kitchen. The second type of electric range is called a slide-in range. A slide-in range is not usually equipped with finished panels on each side and is designed to slide in between cabinets. However, many manufacturers offer a single side panel as an option if you want to place the slide-in range at the end of your cabinets. The third type of range is called a drop-in range. Drop-in ranges are typically an older model of electric range, and aren't as readily available as freestanding ranges or slide-in ranges, although most manufacturers are willing to accommodate replacing older models or offering drop-in models for retro-style kitchens.

Before purchasing an electric range, always measure the space where you intend to install the range. Many kitchens have space set aside and already designed for a standard size range (which is typically thirty inches), but it's still very important to know what kind of size range you need before you purchase. Occasionally, a kitchen has been specially designed for larger ranges to accommodate extra burners or a second range, or for smaller ranges to fit into smaller-sized kitchens.

When you decide to purchase an electric range, you generally have two choices as to the top finish of the range. One type of electric range top is called a smooth top cooking surface. A smooth top cooking surface is usually the most popular type of finish because it has a more modern look and is easy to clean. The smooth top surface is usually made of glass or ceramic. The second type of electric range finish is called a coil element top. Coil element tops are frequently less expensive than their ceramic or glass counterparts, but tend to be a little more difficult to clean and a little more old-fashioned in appearance.

Many types of electric ranges come with special features that are often a factor in determining which electric range to buy. Many electric range models come with a self-cleaning feature which can be quite popular with busy households. A self-cleaning feature is not always a standard feature, so do your research before purchasing. Many new electric range models also come with warming racks or warming trays that can be particularly helpful with high volumes of food being cooked. Some of the newer models of electric ranges also offer varying sizes of warmers which can accommodate more efficient cooking times and more even temperatures.